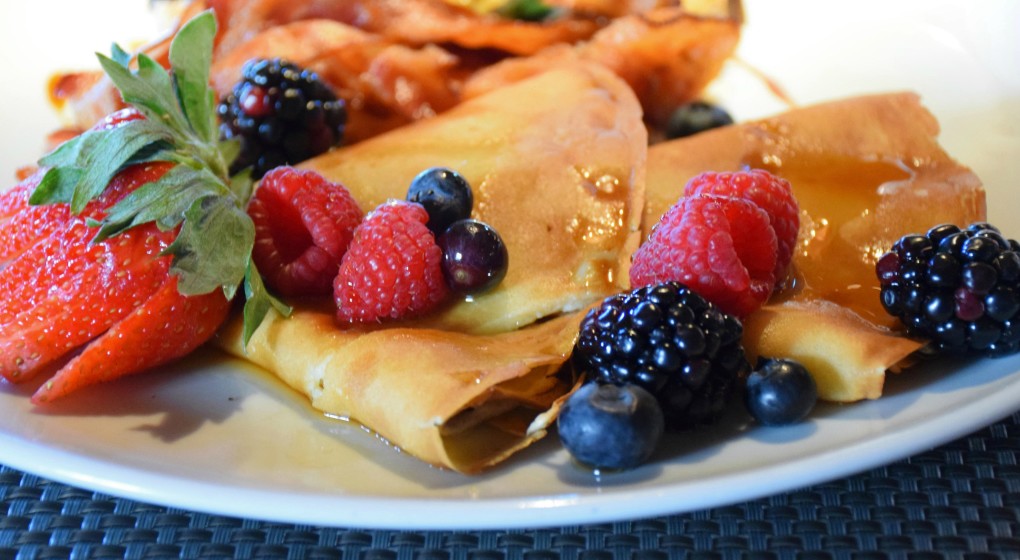 10 QUEBEC FOODS YOU HAVE TO TRY
Steeped in French culture dating back four centuries, it comes as no surprise that there are so many delicious Quebec foods to try.  The cuisine in this charming Canadian province is not only influenced by its history, but by its weather.  Those cold snowy winters call for some hearty fare after a day of wandering the cobblestone streets in old Quebec City or Montreal.  No need for calorie counting in this climate!

Whether you prefer sweet or savoury, you'll find it on Quebec's thriving culinary scene.  Here are ten Quebec foods you have to try:
Poutine
Probably the most famous Quebec culinary experiences, you won't find this delicacy in the health food stores.  Poutine consists of fries, gravy and cheese curds.  Indeed, the word, "poutine" is Quebec slang for a "mess".  A couple of the most popular places for poutine are the fast food chain Chez Ashton and the Le Chic Shack in old Quebec City.
Poutine is so popular, there are festivals celebrating it, and trendy gourmet variations to try.  Look for poutine with foie gras  at Au Pied de Cochon in Montreal.  Because fat is tasty.
Tourtière
Tourtière is a traditional meat pie, usually filled with seasoned and minced beef or pork, or game meats.  You can find them at grocery stores across the province.  A great one to check out is J.A. Moisan in Quebec City, established in 1871 and now considered to be the oldest grocery store in North America.
One of the best restaurants to sample tortiere is Aux Anciens Canadiens, which serves old-fashioned Quebecois cuisine in Quebec City.
Hot Chocolate

Hot chocolate at the Café-Bar Artefact in Quebec City's Auberge Saint-Antoine should really be added to those lists of things you have to do before you die.  It is a sublime experience.  Made with chocolate from Tanzania with 75% cacao, it's like drinking a rich and robustly flavoured chocolate bar.  And, along with the hot chocolate, comes the perfect dipping companion:  freshly made churros coated in cinnamon and sugar. 
Another spot to indulge is Chocolaterie Érico in Quebec City, where you can order from the hot chocolate menu. 
Croissants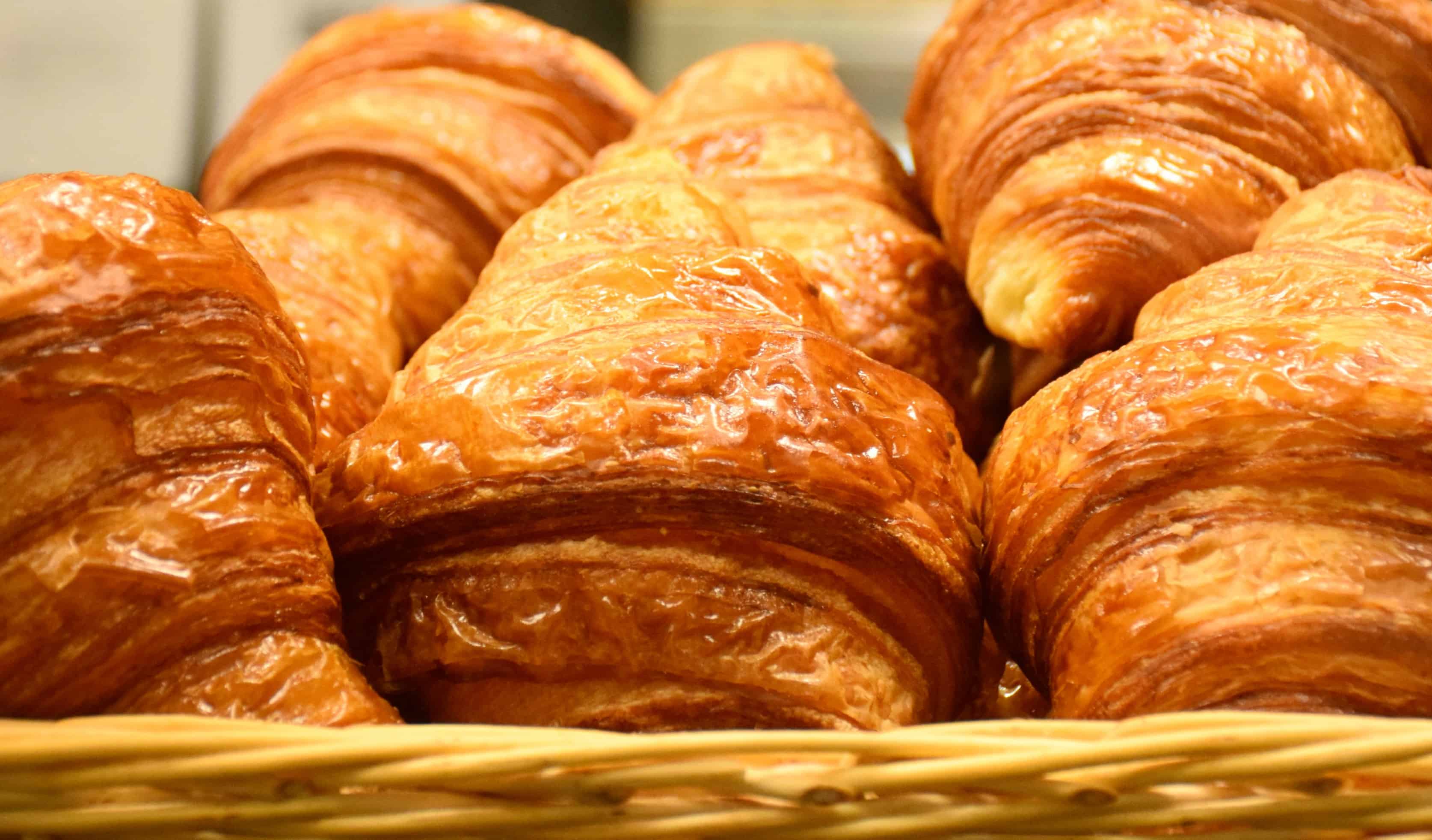 I am not sure it's possible to get more buttery layers in a croissant than the one you'll find at Paillard's bakery on Rue Saint-Jean in Quebec City.  And it goes really well with hot chocolate.  The place fills up at lunch time.  Go early.  Go often.
Cheese & Charcuterie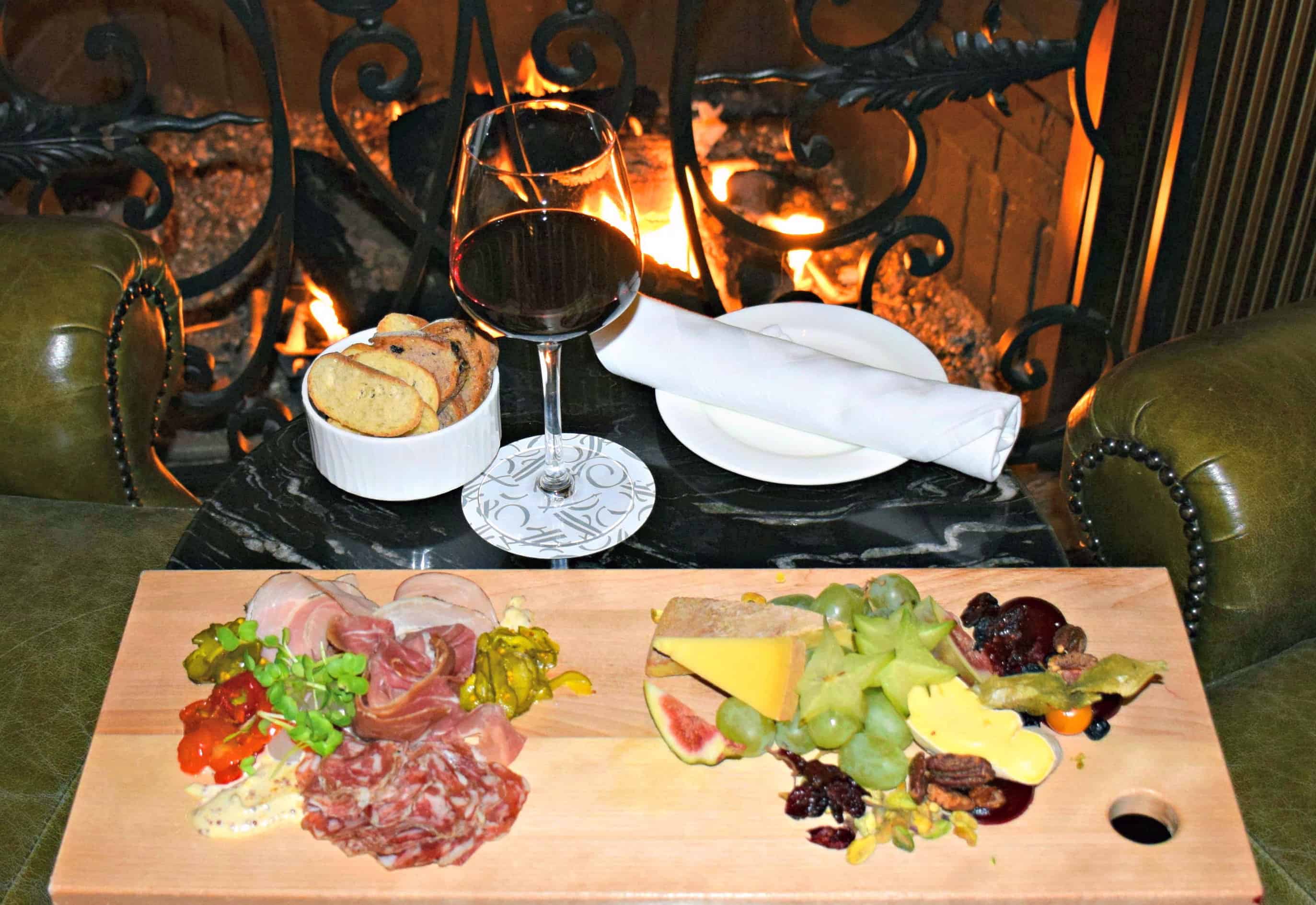 You should not miss the chance to taste many of Quebec's artisan cheeses.  There are hundreds of varieties, including flavourful raw milk cheese, aged less than 60 days. 
A great place to sample the top cheese selections is 1608 – Wine and Cheese Bar in the Chateau Frontenac .  Inspired by the year of Quebec City's founding, this new bar pairs cheese with local charcuterie and wines from around the world.  Overlooking the St. Lawrence River, it's cheese, with a view.
Smoked Meat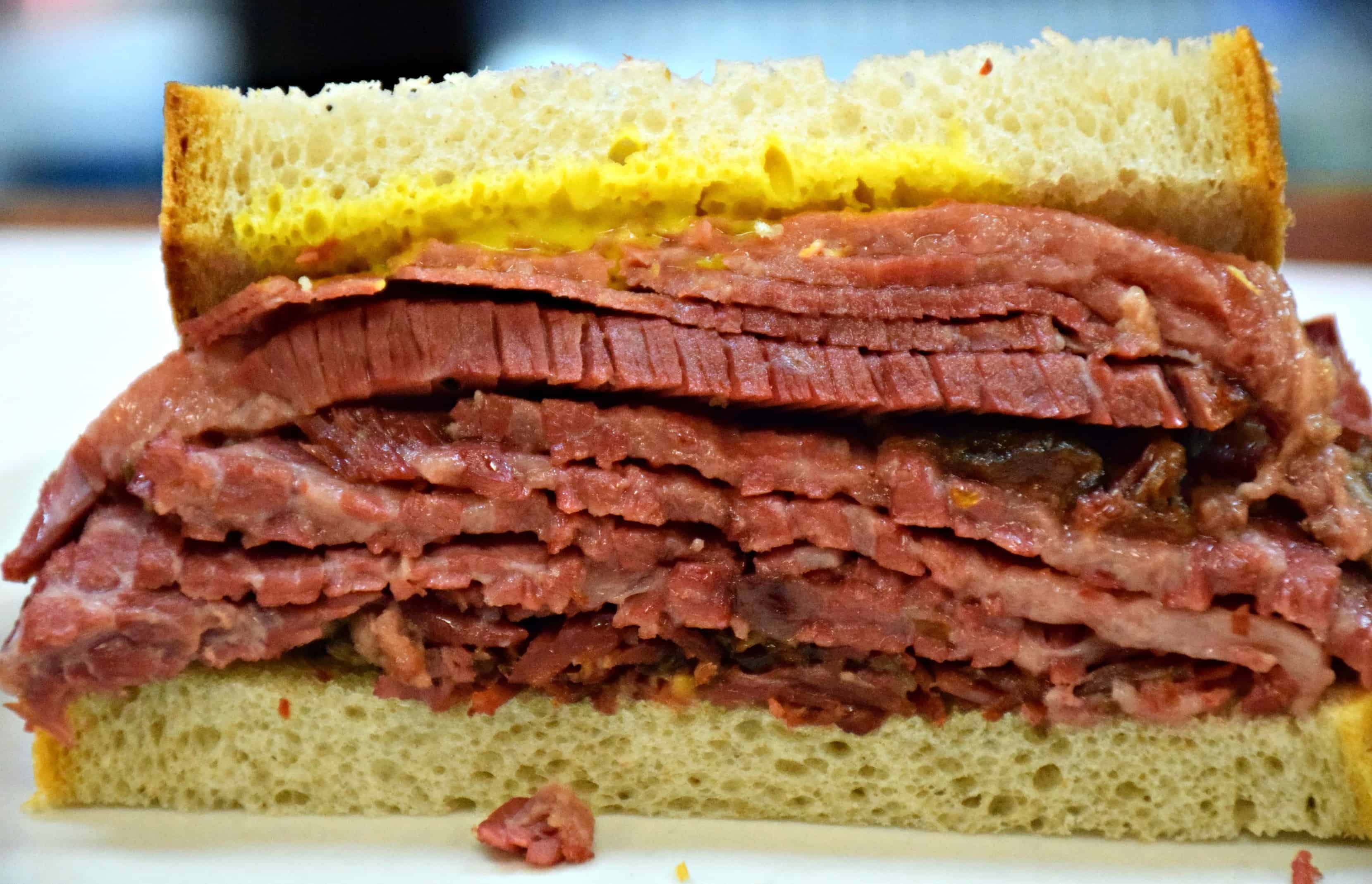 Another item that will not make your cardiologist's recommended list.  But your taste buds will thank you.  Montreal's famous smoked meat is made by salting and curing beef brisket with spices.  The brisket absorbs the flavours over a week and is then hot smoked and steamed.
While Montrealers will have their favourites, the most popular spot is Schwartz's Deli. Schwartz's has been serving smoked meat sandwiches since 1928, and hasn't really changed much.  Some things don't need fixing.  It's a tradition.
Bagels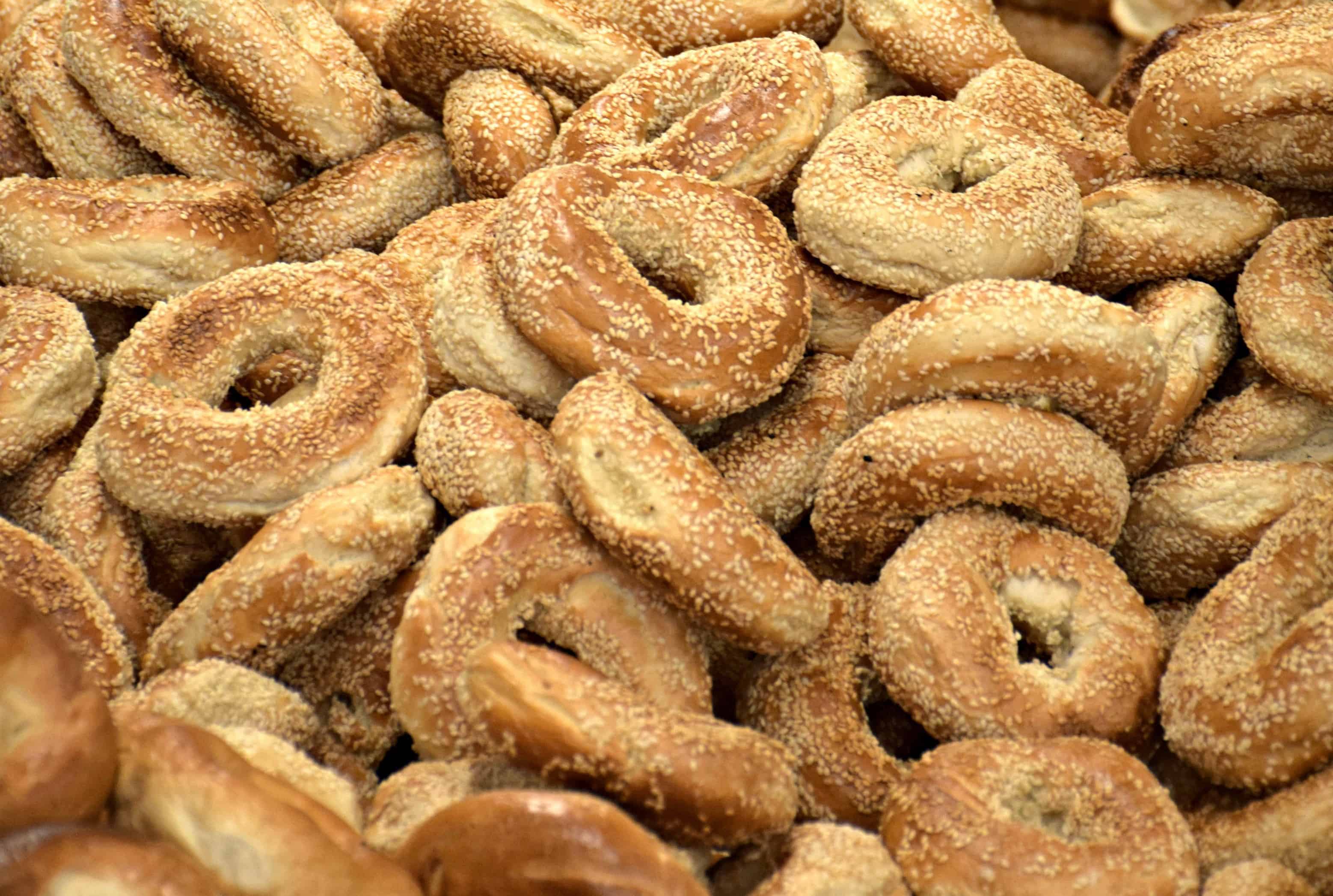 The Montreal-style bagel, which is smaller and denser than its New York counterpart, is made in a wood-fired oven.  And that's a perfect spot to be on a winter day.  Plus you can get your bagel hot and steaming out of the oven and smear some cream cheese on it immediately.
There are two main rivals in Montreal's bagel business.  The photo above is from St-Viateur Bagel.  The other store is Fairmount Bagel.   Be sure to comparison shop and try them both.
Maple Taffy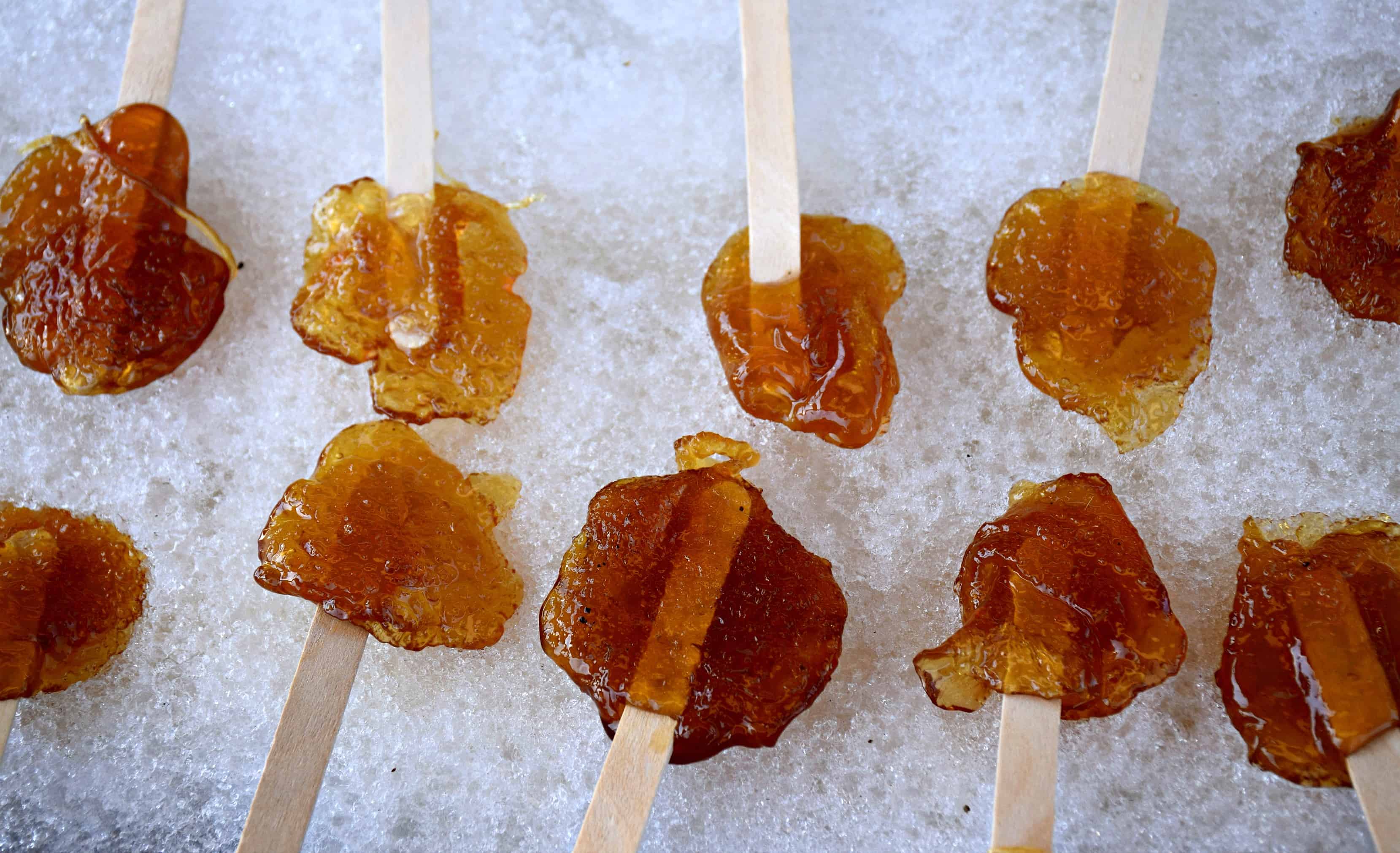 Given that Quebec is renowned for its maple syrup, it stands to reason that the last three items on this list are all in the maple-licious category.  A spring time treat is maple taffy, or  "tire sur la neige".  The taffy is formed by pouring hot, boiled maple sap directly onto fresh snow.  This results in a soft maple taffy that you have to eat right away.
For the best maple everything, go where the syrup is produced in rural Quebec.  Here's a list of sugar shacks for your maple pleasure.
Sugar Pie
It's basically maple syrup in a pie.  Sometimes cream is added, because it's a well-known fact that food with more calories is tastier.  One of the best spots for traditional sugar pie, or "tarte au sucre", is Cochon Dingue (Crazy Pig) in old Quebec City.
Crêpes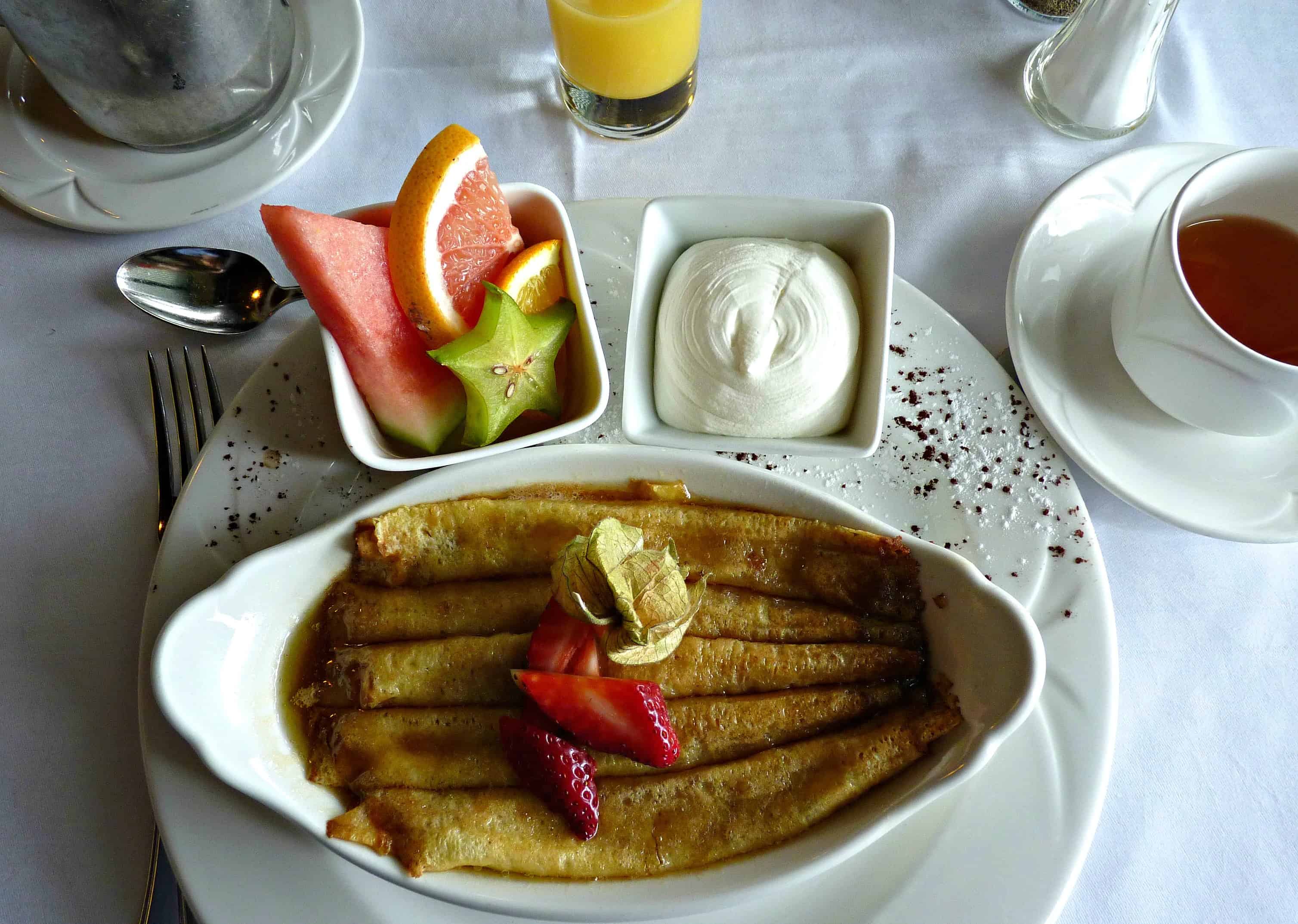 Crêpes are very thin pancakes made from wheat or buckwheat flour.  They may be prepared folded in quarters, as shown in the top photo from the fabulous Panache Restaurant in old Quebec City, or rolled like they do at the Fairmont Chateau Montebello.   Either way, it's a delectable delivery system for maple syrup.

Quebec foods are a treat.  Bon appetit!
Pin it: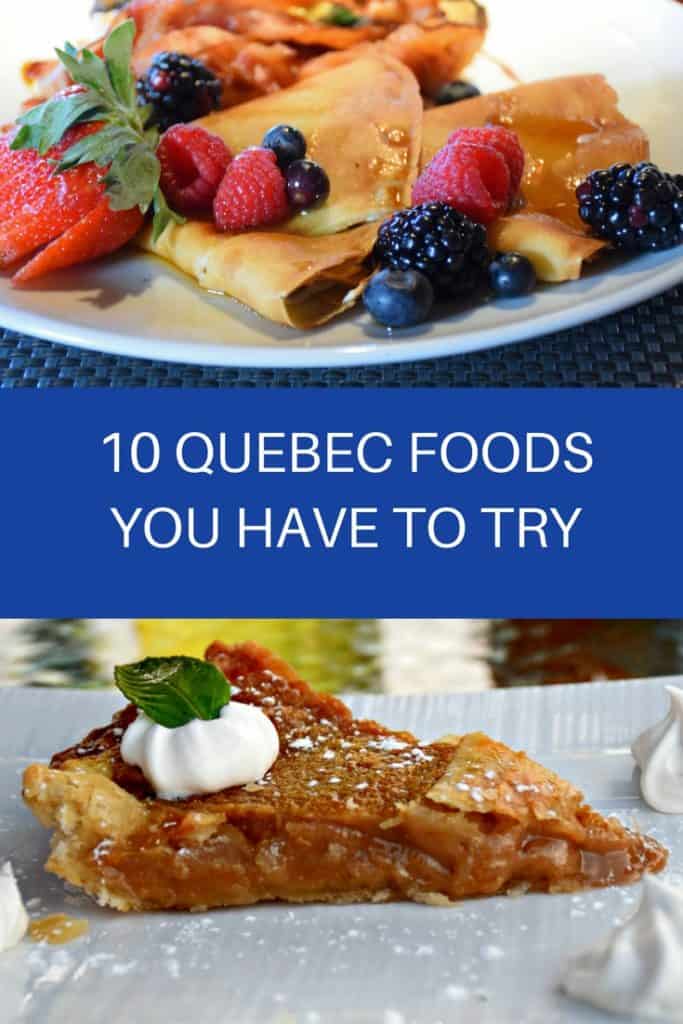 For more travel information on Quebec, see:
12 Ways to Enjoy the Old World Charm of Quebec City
Finding Bliss in Old Quebec City:  Auberge Saint-Antoine