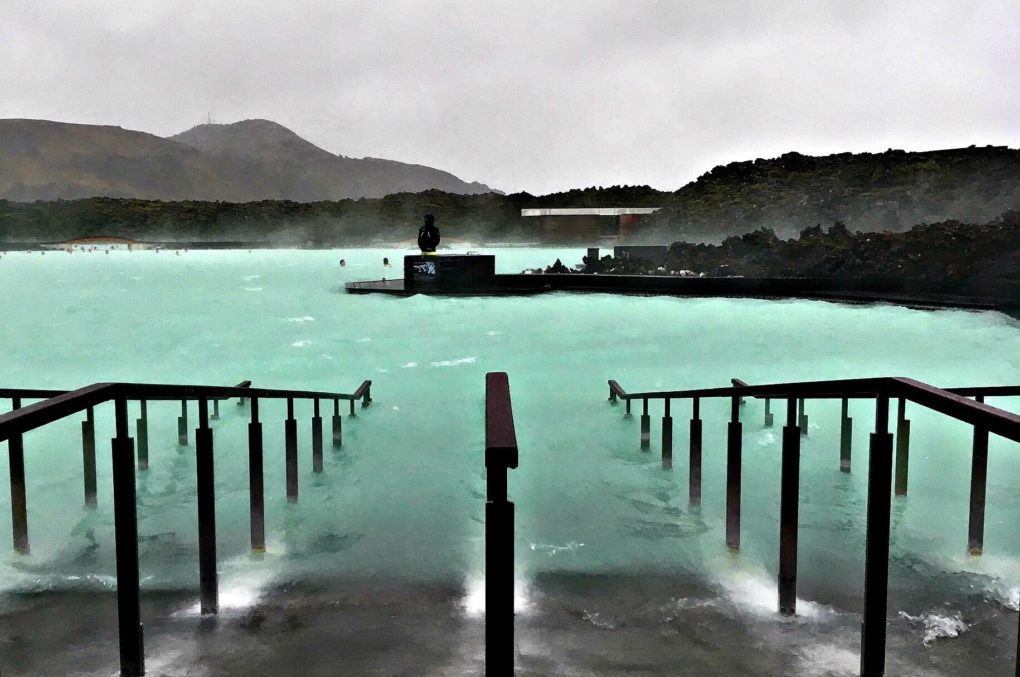 WHAT YOU NEED TO KNOW TO BLISS OUT AT THE BLUE LAGOON IN ICELAND
Is the Blue Lagoon bliss? 
On my visit, the weather outside was frightful, but lounging in the Blue Lagoon was delightful.
As cliché as that line may be, it accurately describes my experience at the Blue Lagoon.
I arrived in Iceland to gale force winds, gusting to 85 kilometres an hour, and rain.   Driving, let alone walking, was not easy without being pushed around by the wind.  But relaxing in the warm aquamarine water – that I could do.
The winds were so strong that the managers at the Blue Lagoon had to take safety precautions by preventing people from walking around outside the lagoon and having everyone enter the pool via an indoor route.  I decided that the safest, and most soothing place for me to be that day was in the water, enjoying the waves.
Although much has been written about the Blue Lagoon, there still seem to be a number of lingering questions.  As I lazed about all day, I thought I would try to look for some answers to questions on Blue Lagoon bliss.

Why is it such a big deal?
It may sound odd but there's an upside to having numerous active volcanoes – – it's the hot water they generate underground.  The geothermal water is used to heat the majority of homes, and even to melt the snow on the streets and sidewalks in Reykjavik. 
There are more than 120 public pools in Iceland which are open all year long.  Although most Icelanders stick to their local pools, they're keen to share the benefits with visitors.  It's part of their culture. 
A recent New York Times Magazine article pondered whether the communal  pools are the secret the country's happiness, putting it this way. 
"Icelanders' remarkable satisfaction is tied inextricably to the experience of escaping the fierce, freezing air and sinking into warm water among their countrymen."
Natural or Not?
In short, the answer to the question as to whether the Blue Lagoon is natural or man-made is yes.  Maybe that's why some people are still debating the subject.
The Blue Lagoon is located in an 800-year-old lava field on the Rekjanes Peninsula.  The warm water is generated 2000 metres below the surface where seawater and groundwater converge between the tectonic plates.  Under immense pressure, it's super heated and surges to the surface, becoming enriched with minerals.   When a reservoir was formed in 1976 as a result of runoff from a nearby geothermal plant, people started bathing in it and noticed some remarkable health benefits.
Since then, the lagoon was relocated and expanded.  More renovations are ongoing to build a luxury hotel, an underground spa and another restaurant. 
So, the pool and the facilities are man-made.  Although it is supplied via a pipe from the geothermal plant, the mineral-rich water is natural.
Why is it blue?
Actually, it's not blue.  If you pour the water into a glass, you'll see that it's white.  That's because of the silica in the water,  a white compound made up of the most common elements on earth – silicon and oxygen.
The blue colour comes from the way the silica reflects light, creating the Blue Lagoon bliss look.

Do you have to get naked?
This concern appears to be more common among North American visitors.  Bathing suits are worn in the lagoon as well as in the saunas and steam baths.  However, with the exception of the exclusive lounge ($), the change rooms (male & female separate) are open like many sports locker rooms.  Everyone is required to shower naked and wash thoroughly before entering the pool, although as a result of renovations, there are now private shower cubicles.
They're pretty serious about cleanliness at the Blue Lagoon, with good reason.  There was a somewhat gruff change room attendant making sure that everyone removed their foot wear upon entering, but no one was actually checking whether you washed your bits.
 If you need more information (or entertainment), I was amused by this video on the subject by Iceland Tourism.
When you arrive at the Blue Lagoon, you'll receive a wristband which acts as a key to your private locker and a credit card to pay for any food and beverages.  I arrived first thing in the morning and there were no lineups at the entrance and plenty of space in all the facilities.
Some other things to remember:  Protect your hair by using the conditioner provided (or your own) while you're in the pool and again afterwards. The minerals in the water make your hair brittle.  I didn't submerge my hair in the lagoon so I just rinsed out and reapplied the conditioner afterwards, and I did notice that my hair was dry until the next washing.  My suggestion would be to thoroughly wash your hair immediately after bathing in the lagoon.

You're also advised to remove jewellery, particularly white gold, as it can be affected by the minerals in the water.  I had somehow missed this point until a change room attendant mentioned it.

Finally, don't forget to stay hydrated.

Why is it good for you?
I'm not a big fan of photos of myself, but here is the obligatory silica mask photo.  It's a fine example of what can happen when you travel solo – – no one told me how poorly I applied the silica mask.  There are stations at the lagoon where you can get the silica mud, apply it liberally, and rinse it off in the water.  It's said to have healing and revitalizing effects on your skin, even relieve the symptoms of psoriasis.    
My 'comfort' package also included an algae mask, which is known for it's anti-aging effects.
Despite my poor mask application, I did notice that my skin looked remarkably awake and improved after little sleep on an overnight flight.  And I felt considerably refreshed after soaking in the lagoon, at 37 to 40 degrees centigrade (98 – 104 F), and relaxing in the sauna. 
What is there to eat?
Always an important question, I spent some time at the Blue Café, which serves light fare like sandwiches, sushi and smoothies.  There is also a restaurant aptly called "Lava" which serves local specialties like Arctic char and smoked haddock. 
Is it worth it?
There's no denying that the Blue Lagoon is touristy and somewhat costly, with entrance fees ranging from 40 to 195 Euros for the various packages.   However, when you consider that I spent all day there and emerged feeling rested and revitalized, it was a worthwhile and thoroughly enjoyable experience to relax and bliss out for the day – one that I wouldn't want to miss. 
And it's a good place to find shelter from the storm.
More Information:
Blue Lagoon website:  http://www.bluelagoon.com/
Getting there:  The Blue Lagoon is 20 minutes from Keflavik International Airport and 50 minutes from Reykjavik.  You can find information on transfers here.  I rented a camper van at the airport from Rent.is and drove.
When to go:  I recommend that you pre-book your ticket for first thing in the morning.

Anything you need:  Waterproof camera.  I used a Lifeproof case for my phone. Lifeproof 77-52565 FRE Waterproof Case for iPhone 6/6s (4.7-Inch Version)- Grind (Dark Grey/Slate Grey/Skyfly Blue)
Suggested Reading: Lonely Planet Iceland (Travel Guide)
 You may also like: 
4 Not-to-Miss Views Near Vik, Iceland
The Part of Iceland that Surprised Me the Most
A View with a Room:  My Iceland Road Trip
The Glacier Lagoon in Iceland:  A Beautiful Contradiction
I was welcomed at the Blue Lagoon as a guest, but my opinions are always my own.