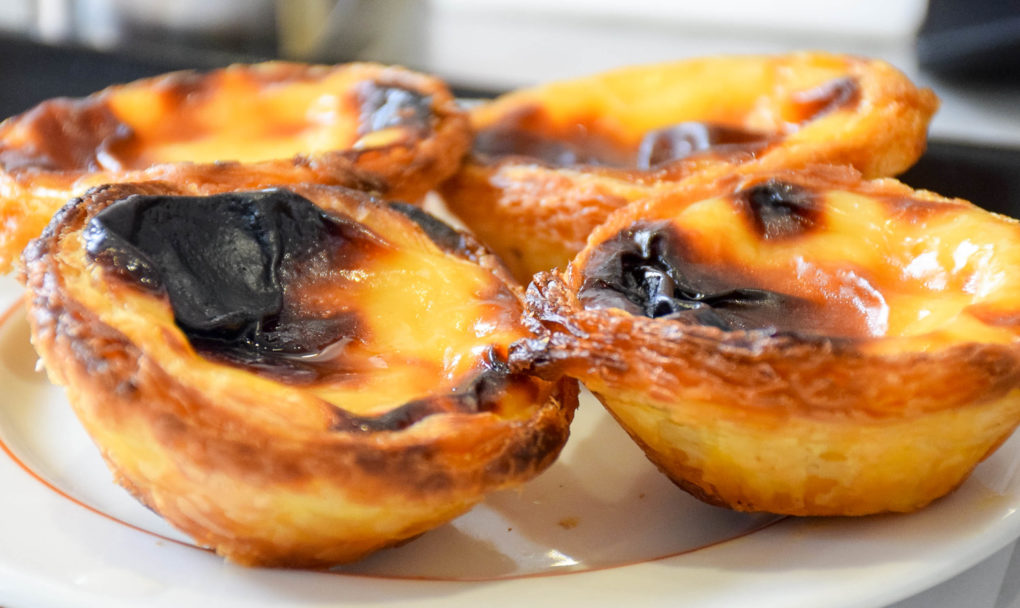 HOW TO EAT LIKE A LOCAL IN LISBON, PORTUGAL
Want to know how to eat like a local in Lisbon?  You can learn a lot about a culture by watching the way people eat.
They say it's also a good way to size up a potential love interest, but that's another matter.
No doubt, you will find passion in Lisbon.  As I discovered on a recent tour with Secret Food Tours, the people here feel passionately about their food.   Our affable guide João shared this enthusiasm with a small group as we toured the neighbourhood of Mouraria and visited a number of eateries that serve fresh, home made food just like a Portuguese grandma would make it.

Port in the morning:
It's not really a local custom to drink port in the morning.  To eat like a local in Lisbon, you would normally have this sweet, fortified wine after dinner with cheese or dessert or on its own.

Port may also be served as an aperitif — a tour aperitif, in this case!  Before heading up to Mouraria, we stopped at a local Garrafeira (wine shop) to taste a popular tawny port from the Ferreira cellar in Porto. I swear this post was in no way influenced by the fact that I was imbibing a tasty beverage containing 20% alcohol, well before noon.  At least not that I can recall.

Drinking wine at meals is common in Portugal and there's a wide selection of excellent local wines at very affordable prices.  You also can't go wrong by ordering a restaurant's house wine, which is served in cute little pitchers.

The Mouraria Neighbourhood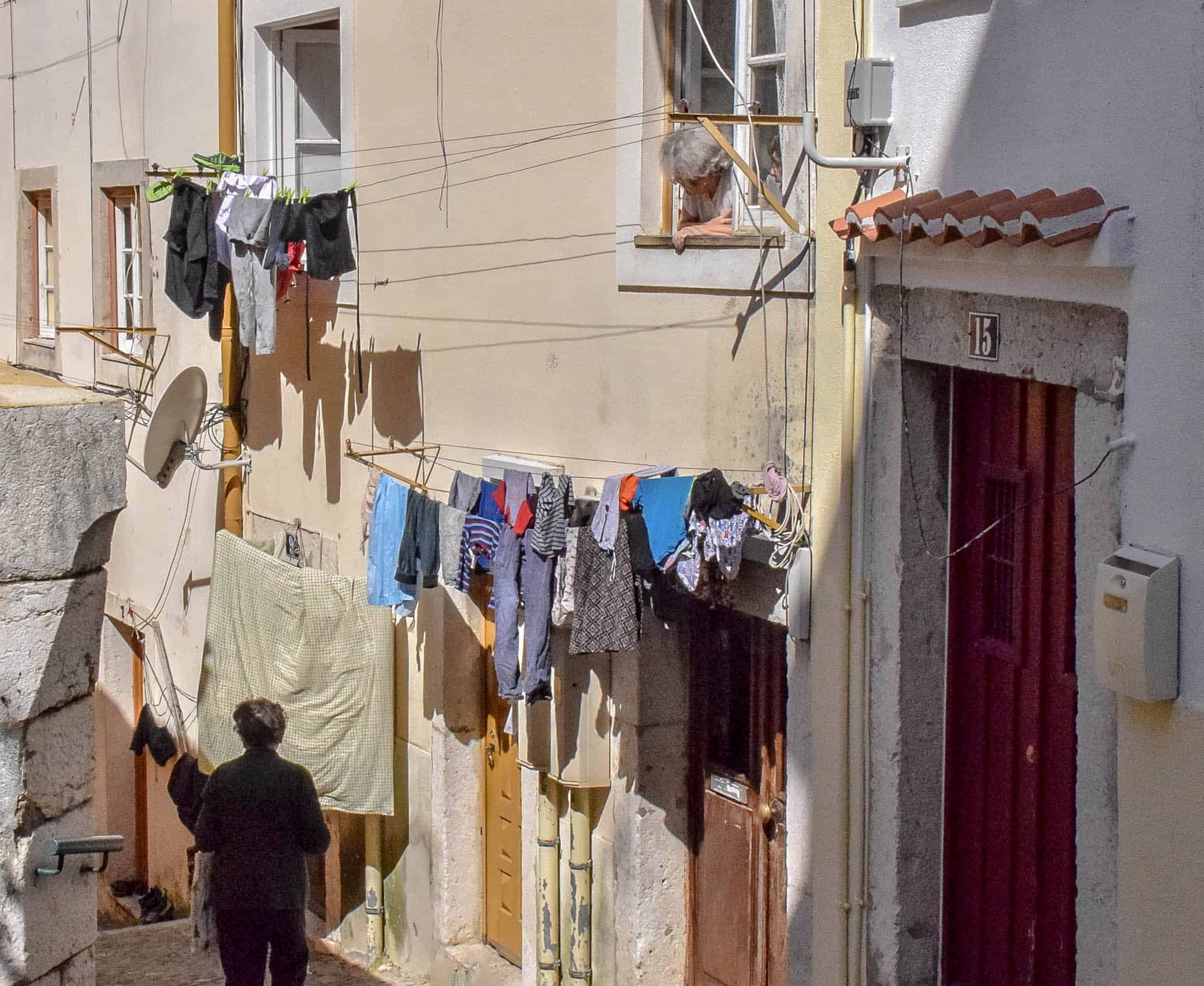 Mouraria gets its name from its first inhabitants, the Moors.  They were relegated to live on the slope of the São Jorge Castle after the Portuguese first conquered Lisbon.   It became a ghetto, which gave rise to the melancholy music of Fado. 
Now, it's a charming tangle of cobblestone streets where laundry hangs outside in the perpetual Lisbon sunshine and grandmas poke their heads out of windows, sometimes engaging in animated conversation with the passersby below.  Like Alfama, this area survived the massive earthquake of 1755, so that many of the gorgeous original tiles or "azulejos" are still in place.
As in the rest of Lisbon, you'll also come across intriguing street art in Mouraria, like this one which appears to decry the crush of selfie-stick wielding tourists.  No need to worry about life imitating art.  I found the people in Lisbon to be unfailingly welcoming and friendly.
Hearty Fare
As one of the more traditional neighbourhoods of Lisbon, Mouraria is an ideal place to sample authentic Portuguese food, made fresh in its many "tascas" (local taverns). 
If you want to eat like a local in Lisbon, a must-try is a bifana and João showed us where to find the best.  If there was a national sandwich of Portugal, this tasty tender pork creation would be it.  It's the country's equivalent of fast food (even McDonald's tried to copy it with the McBifana).  But, it isn't made with haste.  The pork steak is marinated overnight in a combination of white wine and garlic and then it's cooked slowly.  It was served with an "Imperial", a Portuguese beer — a great combination.
We also stopped at a tiny restaurant to try alheira.  When they were forced to convert to Christianity, the Jews in Portugal created this delicious "faux" pork sausage out of anything but pork.  It's usually made with a mix of poultry and bread, so it tastes a little like turkey stuffing in a sausage casing, but with more flavour. 
Ginjinha will cure what ails you
Ginjinha (or ginja for short) is a liqueur invented by a church friar who mixed sour cherries with brandy, water, cinnamon and sugar – – lots of sugar.  Indeed, the cobblestones are quite sticky in front of the oldest ginjinha bar near Rossio square.
A typical drink in Lisbon, it's also what your Grandma would serve to cure ailments of the body and heart.  We sipped some ginjinha in a lovely square under a tree wrapped in a festive "tree cozy".  Both will make you feel all warm inside.
A national obsession: codfish & sardines
In Portugal, it's often said that there are over 365 different ways to prepare dried, salted codfish or "bacalhau".  You'll also find a wide variety of sardines in shops.  Why, they're literally packed in like sardines! (I couldn't resist.)  In June, the air is filled with the scent of fresh, grilled sardines as Lisbon celebrates its patron saint, Santo Antonio, in street parties across the city.  Based on João's description, it's an event I'm hoping to join in one day.
No matter when you visit Lisbon, be sure to order fresh fish for at least one meal.  Chances are that it was caught that day.
A Leisurely Lunch
The Portuguese often enjoy a leisurely lunch, lingering over "petiscos" (tapas), wine and conversation.  And so do I.  We settled in at this beautiful, hidden-away terrace and enjoyed red and white wine, fresh bread, pata negra ham and cheeses including a local sheep's milk cheese that spoons out onto bread like honey.  As well, we got a taste of octopus salad and golden crispy cod fritters (known as pasteis de bacalhau).
It was a lovely tradition to savour.
By the way, you should also know that, due to the long lunches, locals tend to go out for dinner late, after 9 p.m.  You don't want to go much earlier.  This would be the North American equivalent of showing up for the early bird special wearing socks and sandals.
The Famous Pastel de Nata
It may come as no secret that this conduit of custard heaven with the brûlée top was developed by monks.  It seems the clergy have a knack for inventing sinfully delicious treats.  The recipe was later sold to a pastry shop in the district of Belém in Lisbon, now the most famous producer of this delicacy and the most popular among tourists.
Naturally, I felt duty-bound to taste test them in several places.  The tour ended at a custard café called Fábrica da Nata and I have to admit that I preferred their tarts to the ones in Belém.  João suggested that we try them unadorned, with no added cinnamon or icing sugar.  The silky rich custard on its own was pure happiness.
Secret Food Tours promises that the tour will make Lisbon feel like home.
Yes, charming streets, friendly faces and home-made food have a way of doing that.

More Information:
The Tour:  Secret Food Tours offers tours in cities in Europe, the United States and South America
Suggested Reading: Lisbon – What the Tourist Should See
, DK Eyewitness Travel Guide: Lisbon
, Atlas Obscura article, "Portugal's Unexpectedly Heroic Custard Tarts"
Travel Bliss Now was welcomed as a guest by Secret Food Tours, but my opinions are, as always, my own.
Pin it: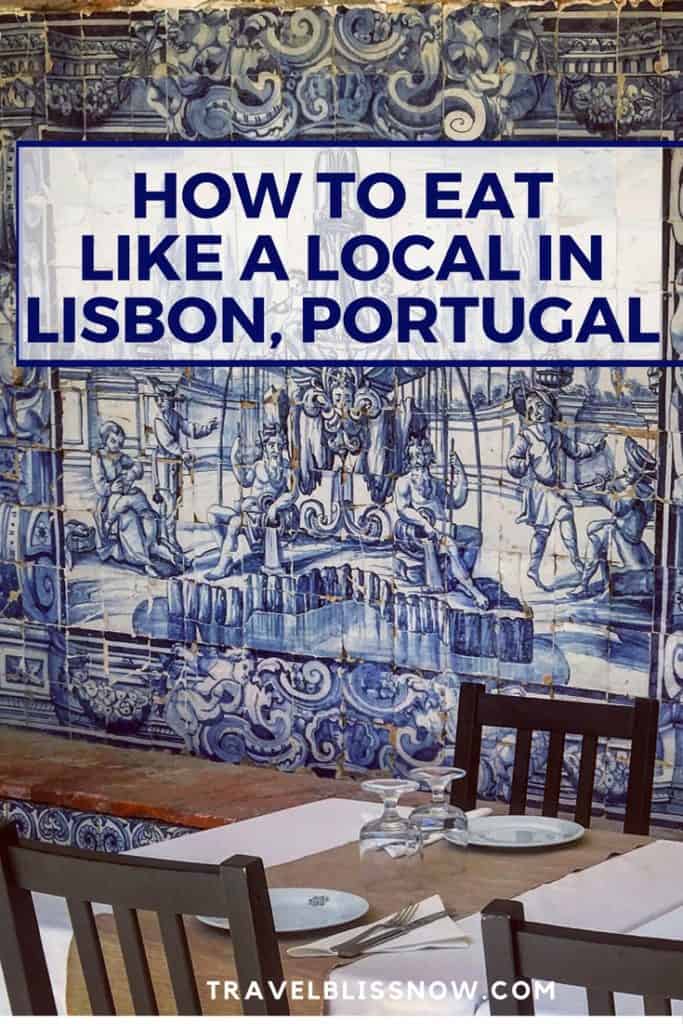 You may also like: 
How to Take Better Photos & Discover Lisbon in One Easy Step
The Best Way to Tour the Douro Valley, Portugal
Six Secrets to Good Eating in Paris