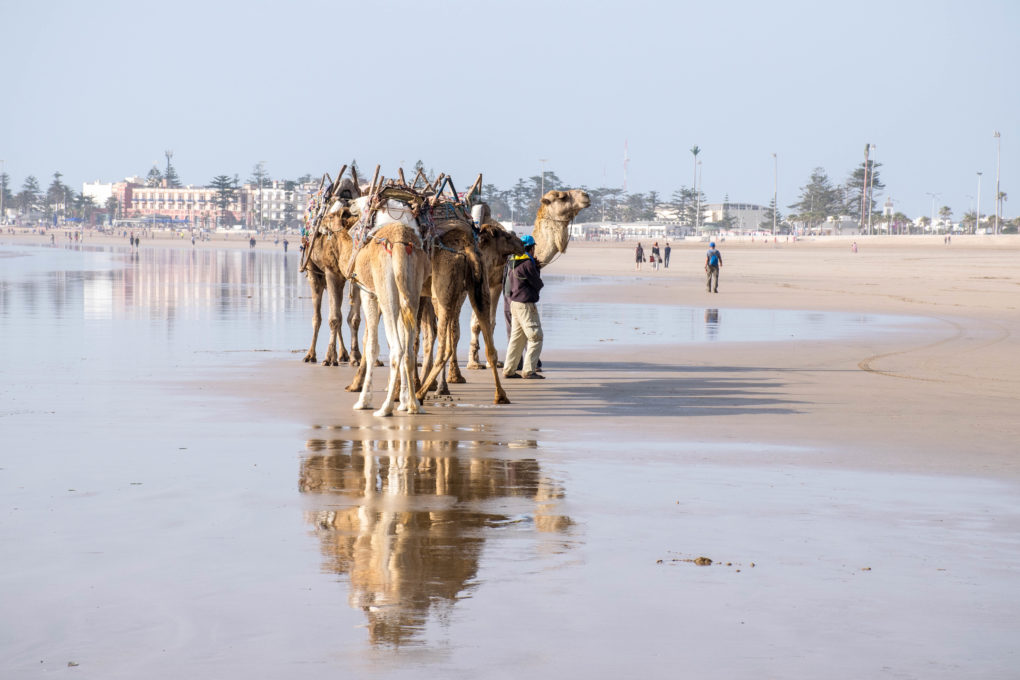 8 REASONS TO ADD ESSAOUIRA TO YOUR MOROCCO TRIP
Essaouira is a different kind of Morocco. 
After the frenetic hustle and bustle of cities like Fez and Marrakesh, Essaouira is a place to take things more slowly — a restoring oasis on a Moroccan journey.
Coastal towns can be hard to resist and Essaouira fits the bill.  A two to three-hour drive from Marrakesh, this town on the Atlantic ocean is known for its wide beaches, mild sea breezes and fine mist.  The name means "little ramparts", so called for the honey-coloured fortifications that surround the white-washed city.
It also has its own brand of cool.  It was recently used as one of the locations for the popular Game of Thrones. Jimmy Hendrix, Cat Stevens and Mick Jagger are said to have visited regularly in the 1960s.  It's an ongoing debate as to whether they were attracted to the place because of the cool atmosphere or whether they helped to create it.  Either way, Essourira is easy to visit, but no less authentic, than other cities in this country.
Here are the reasons why you should add it to your Moroccan itinerary.
Relaxed Vibe
Maybe it's the ocean or the not-too-hot sunshine, but the pace of life is more relaxed in Essaouira. 
It's a place to take the time to soak in the sun and the culture.
Medina
The medina, or historic part of town, is a UNESCO World Heritage site.  It's easy to get the lay of the land here because the streets are laid out geometrically.
There are two sides to the markets.  One is where most of the tourists go and it's filled with brightly coloured carpets, crafts, leatherware and food. Vendors will likely try to start conversations with you, but you won't feel hassled.  The other side of the market (shown above) is where the locals shop.  Here, you'll find spices, pastries, mint tea and raw meats (including goats' heads) displayed in the sun.  It's a little less colourful, but no less fascinating.
Fresh Seafood
As a sea port, it's no surprise that there's plenty of fresh sea food available in Essaouira.  Every morning, local fishermen and women head out in small blue boats and then sell their daily catch at the docks.  It doesn't get fresher than that.  You can get it grilled at small stands nearby.  During my visit, our guide bought several kinds of fish and shrimp, and we had a delicious and messy luncheon feast at a local grill shop.
Elegant Riads

Picture yourself in an elegant riad by the sea.  Riads are usually traditional homes built around open-air courtyards to let the ocean breezes through.  There are plenty of them to choose from in Essaouira.  As part of the G Adventures tour, we stayed at Palais des Remparts, which also had a lovely blue terrace overlooking the ocean.
Friendly People
The relaxed and friendly atmosphere in the city is also reflected in its people.  I was a little on guard one afternoon when I was walking on my own along the rocky seashore and a group of men approached me.  I needn't have worried.  They only wanted to tell me the best way to navigate the shoreline.
Friendly Cats
This is cat lady heaven, so you can imagine that I was thrilled.  You'll encounter cats everywhere you go in this town.  Given the abundance of fish in this seaport, most of them looked healthy and well-fed and were interested in hanging out with humans.
The Beach
A long, windswept beach dominates the centre of the city.  Given the strong winds and currents, it's mostly a beach for wading, walking and windsurfing.   And camel rides.  You'll find them, along with some Arabian horses, at the far end of the beach. 
The Sunsets
During my visit, the mists in the air from the ocean created magical sunsets which changed from orange to magenta after the sun went down. creating moments of relaxing bliss in the seaside town of Essaouira.
More Information:
To get there: I visited as part of the "Sahara & Beyond" tour, a National Geographic Journey with G Adventures. You can also reach Essaouira via a Grand Taxi from Marrakesh (2 hours,  approx $12 U.S. ).  Supratours or CTM offer bus service (2.5 – 3 hours, approx $10 U.S.) .

Tourism Information: Visit Morocco, Essaouira Tourism
When to go: Spring and fall are the best times to visit.

You may also like:
A Tour Down Hedonism Lane in Volubilis, Morocco
It's Raining Cats & Cats in Morocco