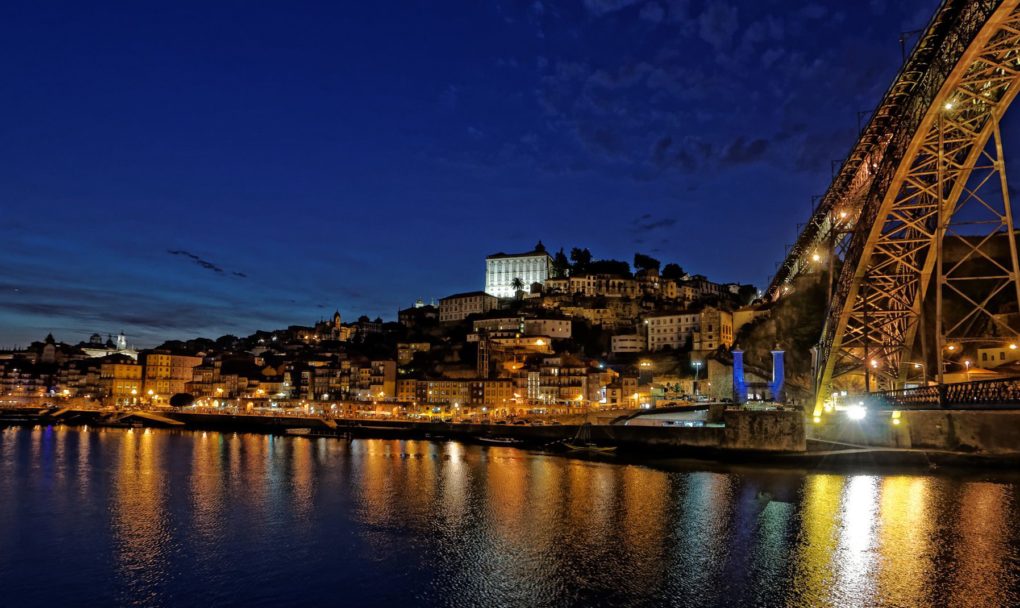 FOOD TOUR HAPPINESS IN PORTO, PORTUGAL
If I hadn't completely fallen for the city by the time I took the food tour in Porto with Taste Porto, the deal was sealed by those deliciously fluffy éclairs.  That and the joyful exuberance of our guide, Liliana.  If ever there was a picture of happiness — being so in love with your city and your quest to share it — this was it.   That sort of passion is infectious (in a good way) and I caught the bug.
Porto is both humble and enchanting.  A city with a UNESCO World Heritage centre and loads of charisma, it's located in northwestern Portugal where the Douro River meets the Atlantic.  It's best known for its port wine and stately bridges, but it also has an up and coming foodie scene that's inventive, yet true to its traditions.
The tour company, Taste Porto, was started by three friends who are crazy about their city and its food.  As soon as I expressed an interest in the food tour in Porto, I knew the experience would be special.  They were not only intent on providing an enjoyable tour, but also gave me plenty of suggestions to make sure that my entire visit to Porto would be just as memorable.

Meeting local people on the food tour in Porto
At our first stop on the "Downtown Food Tour", we visited a shop that serves flaky sweet and savory pastries from the city of Chaves, in northern Portugal.  Liliana introduced us to the owners, George and Vanessa, who quit their corporate jobs because of their love for food and say they are now happier than ever.  Maybe that's the secret:  make happiness-inducing pastries that are filled with buttery goodness.
From there, Liliana took us on a stroll through the Bolhão Food Market, established in 1920, and still the best place in town for fresh produce, cheese, fish, meats and a host of other goodies.
There, we met Hugo, the owner of the Bolhão Wine House, who served traditional sardines in olive oil with a glass of moscatel, a sweet fortified wine.  After that, we enjoyed a a tasty homemade pastry called a queijadinha.  (You can find the recipe by Hugo's grandma here.)  While we were there, we chatted with Hugo about his concerns about the city's plans for the market.  You know, like the locals do.
Sandwiches are big in Porto
Sandwiches are both popular and generously proportioned in Porto.  Think sandwiches are a little ho hum?  Not in Porto.  The tiny, atmospheric restaurant, Flor Dos Congregados, is the home of an unforgettable pork loin and cured ham sandwich.  Here's why it's so good.  The pork loin is marinated for over 20 hours in onion, garlic, bay leaves and wine and then slow-roasted for hours.  The second layer of the sandwich is smoked ham that's been aged for 24 months.  Is your mouth watering yet?  This was paired with a glass of sparkling Portuguese wine.
One thing that is not served on the tour is a francesinha.  This is a Porto specialty, known as the king of sandwiches. That's because it's made with thick bread, three kinds of meat and covered in melted cheese and a special tomato sauce.  It's usually served with a fried egg on top and french fries.  Chances are that if they served this on the tour, you wouldn't be able to eat another thing.  So, Taste Porto does the next best thing by providing recommendations on where to find the best francesinhas in town. Plus they warn you to wear stretchy pants when you go.
Coffee and sweets are big things in Porto too.  As Liliana said, a break for coffee provides "a good excuse for everything".  We visited a historic café for coffee and a former dairy shop that now serves those incredible éclairs — best I've ever had.
It's not all about the food
The folks at Taste Porto promise to introduce you to the real Porto, and that they do.  The walk includes classic city views, and some off the beaten path ones, all served with historical anecdotes.  For example, this street in the above photo is in the city's Jewish neighbourhood.  Liliana  told us that because Porto is a port city, it served as an escape route for Jews during the second World War.
From its abundant blue and white tiled azulejos (tiles) to edgy graffiti, you'll see urban art everywhere in Porto, which Liliana pointed out in several places.  How can you not fall for a city that has this kind of artistic whimsy?
Petiscos & friends
The food tour in Porto wound up in the evening, as friends do, at Taberna do Largo, a restaurant that specializes in quality cured meats, cheeses and olives from small producers around the country.  These are served as petiscos – – a small version of large plates so that you can taste a good variety.  Paired with three kinds of local wines and personalized suggestions on where to eat and what to do during the remainder of our visit to Porto, it was a fun way to end a fabulous experience. 
Sometimes, it's not the specific sights that you remember after a trip, although Porto is undeniably adorable.  It's the people and the food, and the feeling that you had while you were with them that stays with you.  That, and the decadent taste of those éclairs. I won't forget those either.  If this is life in Porto, I'll definitely be back.
Taste Porto provided a media discount to Travel Bliss Now, but I maintain full editorial control.
You may also like:
The Porto Book Shop That Inspired Harry Potter's Hogwarts
The Best Way to Tour the Douro Valley, Portugal
How to Take Better Photos & Discover Lisbon in One Easy Step