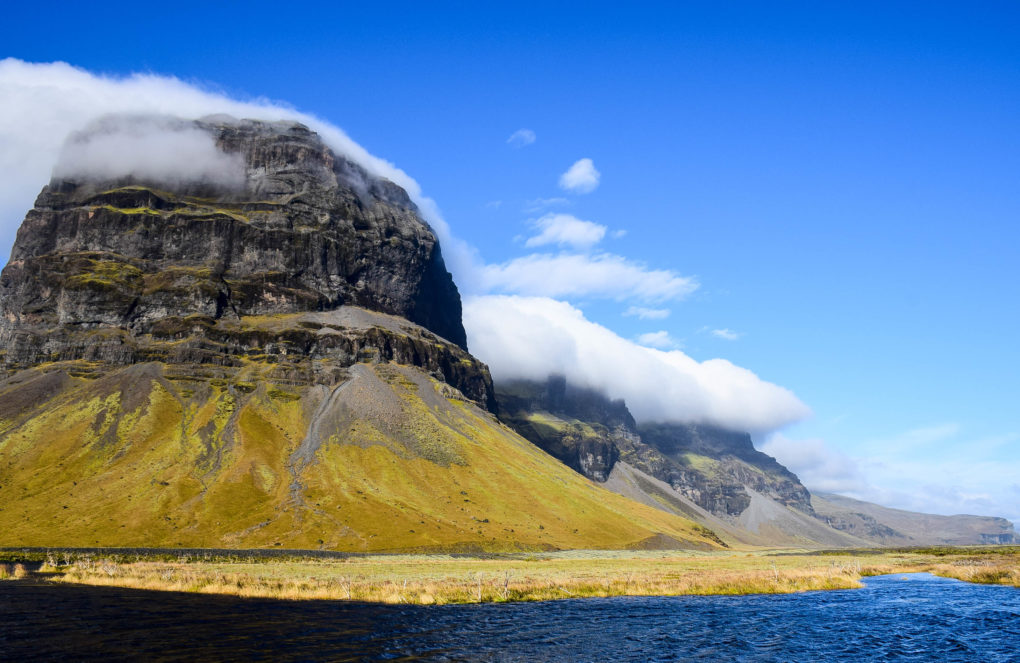 THE PART OF ICELAND THAT SURPRISED ME MOST
According to Google Maps, it takes about two and a half hours to drive from Vik to the Jökulsárlón Glacier Lagoon on the south coast of Iceland.
I'm sure that's possible.  If you don't stop to look at the streams, waterfalls, mountains and  fuzzy rocks along the way.
I decided to focus my Iceland road trip in my Rent.is camper van on the south coast because the Glacier Lagoon was one of the things I wanted to see the most.  I had seen plenty of Instagram photos of the Glacier Lagoon and the black sand beaches and rock formations near the town of Vik.  I hadn't realized that the scenery is just as stunning at every step of the way in between.  That was a surprise.
I hadn't anticipated that lava fields covered with moss as green as Ireland would be so beautiful.  And I didn't know there was a mountain shrouded in clouds where, legend has it, a giant lives.
It took me about four and a half hours to make the drive.  I tried not to stop, but I just couldn't help myself.
And there was more that I didn't see.  I didn't stop at Skaftafell, a wilderness area in Iceland's Vatnajökull National Park or at the other glacier lagoon, Fjallsárlón, where you can get closer to the glacier.  
The lesson I learned:  if you plan to drive the south coast, or the ring road, be sure to allow plenty of time to explore the stretch between Vik and the Jökulsárlón.
You'll be amazed you did.
More Information:
Campervan:  Rent.is
Driving Tips:  Iceland Academy – Driving in Iceland video

Useful Sites:  Iceland Road Conditions    Iceland Meteorological Office
Suggested Reading: Lonely Planet Iceland (Travel Guide)
You may also like:
What You Need to Know to Bliss Out at the Blue Lagoon in Iceland
A View with a Room:  My Iceland Road Trip
The Glacier Lagoon in Iceland:  A Beautiful Contradiction
4 Not-to-Miss Views Near Vik, Iceland