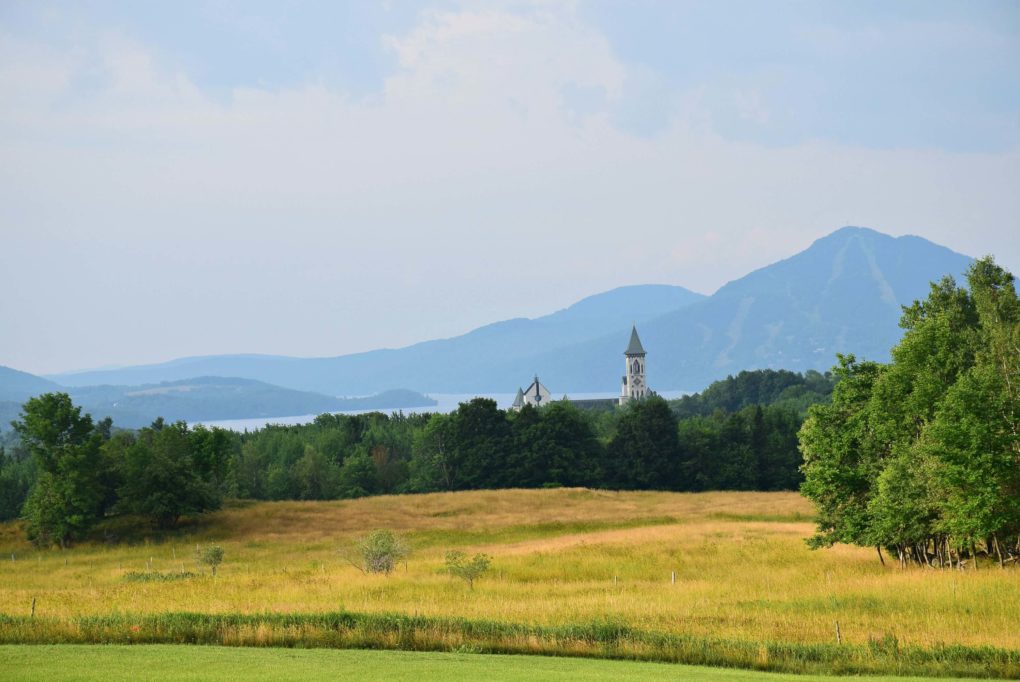 FAVOURITE MUST-SEES IN THE EASTERN TOWNSHIPS OF QUEBEC, CANADA
Quebec's Eastern Townships have been named by National Geographic as one of Canada's 50 places of a lifetime.  It has my vote.  Set in the southeastern corner of the province, this region is filled with rolling hills, farms and forests, charming towns and inns, and fantastic food.
You might wonder, as I did, why it's called the "Eastern Townships".   After the Americans declared their independence in 1776, many of those loyal to the British Crown fled north.  The British colonial government in this area was happy to welcome the new settlers and gave them generous land grants known as townships.   This division of land, and the name, still exist today.
History lesson aside, I took a road trip to the region this year and found it utterly charming, and perhaps, a bit fattening. 
Here's a list of my favourite must-sees:
Saint Benedict Abbey, Saint-Benoît-du-Lac
Spectacular architecture in an equally stunning setting, Gregorian chants, monks in black robes with hoods, two hostels and home made cheese and apple cider.  You'll find all of these things at the Saint Benedict Abbey, home to 50 monks devoted to meditation and prayer. 
I visited twice, once in the morning at sunrise, when, just as I was driving away, I saw out of the corner of my eye a monk on a morning constitutional in the forest, his black hood whipping in the breeze.  I went back later to see inside, and to visit the basement boutique to pick up some delicious smoked cheese produced by the monks.
Bleu Lavande
Ever since I first heard of the place, I have wanted to wander in the lavender fields at Bleu Lavande.  In July, 100,000 lavender plants bloom filling the air with that sweet, sleepy scent.  I spent a lovely afternoon there, sipping lavender lemonade, wandering and breathing.
Docks & Beaches
The Eastern Townships is a land of lakes with plenty of opportunities for summer swimming, boating or gazing at the view.  I walked the boardwalk along the beach on Lac Memphrémagog, in Magog, and sat on the dock dipping my toes into the water at Lac Brome near Knowlton.  But my favourite spot for whiling away the hours was this dock at the Ripplecove Inn  on the shores of Lac Massawippi.

Chapelle Ste Agnès Vineyard

I don't think I could have imagined a more idyllic and tranquil vineyard than the one at Chapelle Ste. Agnès.  The grape vines are planted in terraced rows, in a bowl shaped landscape surrounding a heart-shaped reflecting pool.  It's no surprise that it's also become a popular spot for weddings.  I spent a couple of hours there, and even though my visit was interrupted by a business call, it was a calm oasis in my day.  Or maybe that was the wine.
Cute Towns & Villages
I enjoy exploring quaint towns, and there are many to choose from in the Eastern Townships.  One of my favourites was North Hatley, which is chock full of charming shops and waterside cafes.  I may also have been swayed by the fact that it has a hotel and shop solely dedicated to the enjoyment of chocolate. 
The Food:
This one on the list is not so much a 'must see', but a 'must eat'. 
The Eastern Townships is, undoubtedly, a gourmet destination known for its local products and French-influenced, innovative chefs.  Good food is simply part of its DNA. 
Here's an example.  It was late when I arrived in the region and I just wanted a quick place to eat near my Inn.  The people at the Inn suggested the Resto d'Austin.  A 'resto' is kind of a roadside diner in Quebec, and this place didn't look like much. But the food was affordable and home made and just right.  Then there was the sugar pie, a Quebec specialty.  Melt-in-your mouth delicious, and not too sweet.  When I finished with great satisfaction, the owner proudly told me (in French) that it was her mom's recipe.  I went back the next day for another piece.
Charming Inns:
As a tourism region, there are numerous charming inns in the Eastern Townships ranging from basic to luxurious.    I thoroughly enjoyed my two-night stay at the elegant Auberge Les Pignons Verts located in Austin, Quebec, which was ideally suited to exploring the area.  It had all the elements that you look for in a bed and breakfast:  lovely decor, cleanliness and an excellent breakfast.  But it was the hospitality that set it apart.  The owners were truly dedicated to ensuring that I enjoyed the region, and went above and beyond to help make plans for my visit.
Still on my list to see:
Of course, I didn't get to see everything in one short visit to the Eastern Townships, but based on my time there, I'm convinced that I'd like to go back. Here are few things I'll have on my list for the next trip:
Forest Lumina  – Aa night-illuminated pathway created for one of the most-travelled trails in Quebec, in Parc de la Gorge de Coaticook.
Mont-Mégantic AstroLab – This astronomic observatory based in a dark sky reserve offers tours and star gazing events using the best telescope in Canada.
Manoir Hovey – Named Travel and Leisure's best resort in Canada, this old world manor is especially known for its exquisite food and drink.  It's especially popular in autumn when the colours are peaking.
Bromont Chocolate festival and the  Sherbrooke Bacon Festival are on at the same time every year in May.  Almost too much bliss to handle!
More Information:
Suggested Reading: Famous mystery writer Louise Penny has based the settings in some of her books on locations in the Eastern Townships.  See: The Murder Stone: 4 (Chief Inspector Gamache) by Penny, Louise (2011)
and The Cruelest Month: A Chief Inspector Gamache Novel
You may also like:
Where to Find a Touch of Tuscany in Canada
Finding Lavender Bliss in a Surprising Place
Relaxing in the Quebec Countryside at the Elegant Auberge Les Pignons Verts