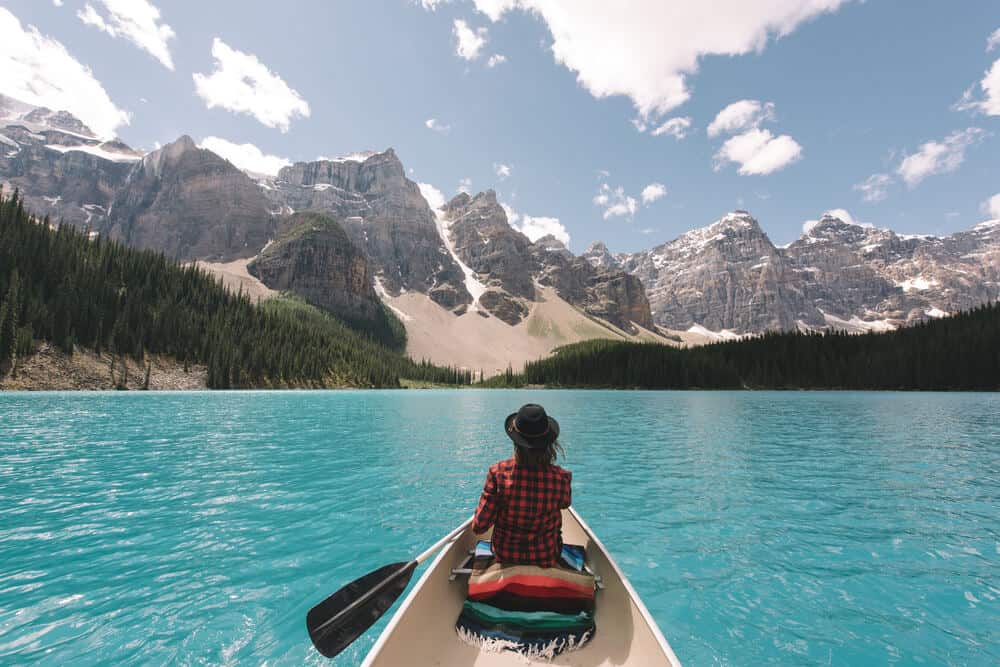 MY PICKS: TOP TEN NATIONAL PARKS IN CANADA TO VISIT
Canada's National Parks are among the most beautiful places on earth.
Currently, Parks Canada lists 39 National Parks and 8 reserves in the country.  These parks, ranging from mountains and lakes to forests and tundra, protect the unique wild places, a source of pride for Canadians.
It sounds trite, but the natural beauty in the parks is awe inspiring and absolute travel bucket list material. 
To celebrate Canada's 150th birthday this year, you can visit for free with a Parks Canada Discovery Pass.  If ever there was a time to experience nature bliss at its best, this is it.
Among the many choices, here are my picks for the top ten parks to visit.
Pacific Rim National Park Reserve, British Columbia
If endless sandy beaches are your thing, this is the park for you. 
Pacific Rim National Park Reserve is located on the west coast of Vancouver Island and features a rugged coast line and lush temperate rain forests.  Key activities here are sea kayaking, whale watching and hiking along the challenging West Coast Trail.
Banff National Park, Alberta
Rocky Mountain peaks, turquoise glacial lakes, a picture-perfect mountain town, abundant wildlife and scenic drives come together in Banff National Park – Canada's first national park and the flagship of the nation's park system. Banff is a must-see, but be aware that over three million visitors a year visit the park to enjoy hiking, biking, skiing and camping in some of the world's most stunning mountain scenery. Banff is part of the Canadian Rocky Mountain Parks UNESCO World Heritage Site.
Waterton Lakes National Park, Alberta
If the crowds in Banff are too much for you this year, head to the lesser known Waterton Lakes National Park in the southwest corner of Alberta, and bordering Glacier National Park in the United States.
One of my favourite things about Waterton is that it is more lush than some of the other Rocky Mountain parks, resulting in greater diversity of wildflowers and wildlife.  Visitors here will see clear lakes, thundering waterfalls and exceptional  mountain vistas.  Don't miss the historic Canadian icon, the Prince of Wales hotel.

Wapusk National Park, Manitoba
This national park, located near Churchill in northern Manitoba, is one of the best places in the world to see wild polar bears.  The name, "Wapusk" is the Cree word for "white bear".   As I haven't been there yet, this one ranks highly on my bucket list.
Thousand Islands, Ontario
The Thousand Islands National Park  consists of 21 picturesque granite islands in the Saint Lawrence River.  The islands are actually the worn-down tops of ancient mountains.  Much of the park is only accessible by boat, but it's well worth it to explore the secluded bays where you'll see rare species of turtles and birds.  The river, of course, borders the United States, where you may also want to explore Boldt castle, a romantic, yet bittersweet house of dreams.
Prince Edward Island

Do I really need to add any description to this? 
Prince Edward Island National Park is located on the north shore of the island and was established to protect its broad sand beaches, dunes and salt marshes.  It's also home to Green Gables, the inspiration for the Anne of Green Gables novels.  If you like a slower paced vacation, to be spent building sandcastles and eating lobster dinners, this is the place for you.
Sable Island, Nova Scotia
Still in the top five of my travel wish list, this wild and windswept island of sand sits far out in the North Atlantic.  The island is known for shifting sand dunes, seals, as well as plants and birds that are found nowhere else on earth.  Of course, its most famous draw, and the reason I want to go, is the colony of shaggy, wild horses that roam freely.  Scene of many ship wrecks, the island is not easy to access and only a limited number of visitors are allowed each year.  One way to get there is via tours offered by Adventure Canada.
Fundy National Park, New Brunswick
Located in the Bay of Fundy in New Brunswick, visitors to this park can experience the world's highest tides, not to mention pristine forests and more than 25 waterfalls.  Don't miss a visit to the nearby Hopewell Rocks where you can paddle in a kayak as the waters rise up to 15 meters (50 feet) and then, at low tide, walk the otherworldly sea floor where a variety of sea creatures cling to life.  
Gros Morne National Park, Newfoundland

In this spectacular park on the west coast of Newfoundland, you'll find soaring fjords and moody mountains that tower above a diverse panorama of beaches and bogs, forests and barren cliffs. Shaped by colliding continents and glaciers, Gros Morne's ancient landscape is a UNESCO World Heritage Site. This is a place for wandering coastal pathways, hiking through dramatic landscapes and spotting wildlife, like moose and caribou.  
Kluane National Park & Reserve, Yukon
Kluane, high in the mountains of southwest Yukon, is a land of extremes. The park is home to Mount Logan, Canada's highest peak, its largest ice field and North America's most genetically diverse grizzly population. 
As for the scenery along the highway, or the hiking trails in the mountains, there are only two words.
Simply spectacular.
Which parks in Canada would you like to visit?
You may also like:
Why You Should See the Spray Lakes in Canada this Summer
A Spectacular Helicopter Tour over the Canadian Rockies
7 Fascinating Stops on the Dinosaur Trail in Alberta