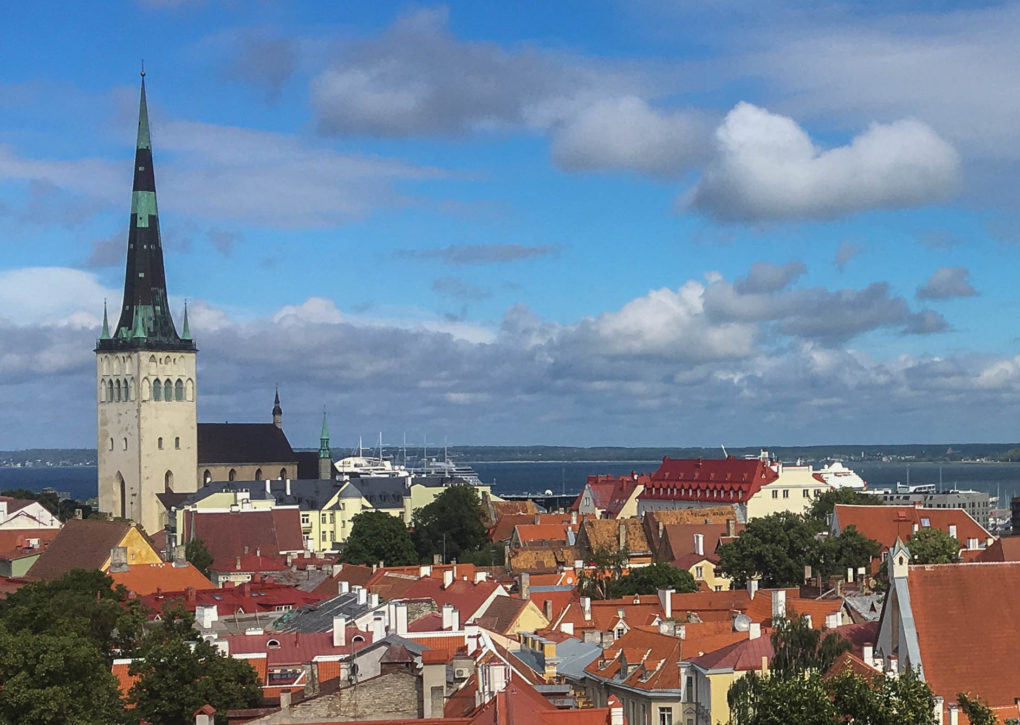 TOP TEN TRAVEL BLISS MOMENTS OF 2017
You know it was a good year for travel when you have trouble narrowing down the list to the top ten travel bliss moments of 2017.
Those are the experiences when you happily lose yourself in the moment.  And they're the ones that stick with you long after the trip is over.  Those unforgettable blissful experiences are what this blog is all about.
Looking back on the year also reminds me that, even though life isn't always perfect, I'm very fortunate to have the opportunity to enjoy these happy places.
Here are my top ten travel bliss moments of the year:
Winter Escape to Cuba
It had been a long time since I had taken a beach resort style  vacation, and, to be honest, I wasn't sure if it was still for me.  After my beach stay in Santa Maria, Cuba with Sunwing Vacations, I can assure you that an unplugged, ocean side retreat is for everyone, especially those of us looking for a break from winter.  During the week, that salty languid beach feeling came over me and I felt more relaxed than I had in years. 
For more, see How to Plan the Perfect Do-Nothing Beach Vacation.
A Night in the Sahara
From the sandy beach, I went to a sandy everything in the Sahara Desert as part of a tour of Morocco with G Adventures.  What a memorable adventure to feel so tiny in a sea of sand and sky.  A sunset camel ride, dancing around the camp fire, a short, but sound sleep in a silent Bedouin tent and an early morning to watch the sun peek above the dunes – – this is the stuff of travel bliss.
Photography and food in Lisbon
With views like this one from the terrace of the Memmo Alfama Hotel, Lisbon, Portugal is a photographer's dream.  To capitalize on the opportunity, I took two tours of the city with Lisbon Photo.  These walking tours are unlike any other in that, not only did I learn about Lisbon from a local (and find the most photogenic views), I received invaluable coaching that has been a big help to improve my photography. 
I could not talk about my affection for Lisbon, without talking about the food.  And when I say food, I mean the pasteis de nata – – those deliciously silky egg custard tarts curiously invented by monks.  During a fantastic day with Secret Food Tours, I discovered that there is plenty of delectable food and wine in Lisbon, but it's the custard tarts that I dream of.  And they showed me the less touristy places to find them.
Easter weekend on the Portuguese Riviera
When I posted this photo on Instagram, I captioned it "when life is like a dream".  I spent Easter weekend being spoiled at the ocean-side, five-star Hotel Cascais Miragem in an area just west of Lisbon known as the Portuguese Riviera.  Easter brunch poolside, a balcony overlooking the ocean and a luxurious rain shower were just what I needed after three weeks of traveling. 
To top it off, Cascais is a perfect base to visit the enchanted forests and palaces of Sintra.  Like a dream, indeed.

Indulging in Porto and the Douro Valley
I fell for the city of Porto on a food tour with the folks from Taste Porto.  These people know their stuff – – they showed Anthony Bourdain where to eat in Porto.  They shared their city and its foodie traditions with such passion and warmth that I could not help but feel the same way.
On a tour of the Douro Valley with Douro Exclusive, I strolled among the vineyards and met local winemakers who make port the way their grandmothers used to make it.  Add in a few tastings, a gourmet lunch and cruise on the Douro River, it was a special day spent experiencing a region with the people who live there.
Celebrating Canada's 150th Birthday
We Canadians tend to be rather quiet about our love for our country.
But this year, we celebrated loudly as we marked Canada's 150th birthday with a year-long party.
I closed out the year, as I usually do, with a visit to the Rocky Mountains near my home town, a pilgrimage of sorts for me.  When your country looks like this, there's good reason to be busting with pride about it.
Cobblestones & cardamom in Stockholm, Sweden
It's hard to put my finger on what it was that captivated me so about Gamla Stan, the Old Town in Stockholm, Sweden.  Perhaps it's because it's one of the best preserved medieval centres in all of Europe, dating back to the 1200s.  Or maybe it was the smell of cardamom buns wafting through the air. Introduced to me by Food Tours Stockholm, these taste treats are like cinnamon buns only with cardamom, and indefinably delicious.

Or maybe it was both.
Rooftop Café in St. Petersburg, Russia
In two days in St. Petersburg, Russia, I had fascinating visits to the opulent palaces of historic figures from Czarist Russia, stunning churches and the great Hermitage Museum. 
But the experience that stuck with me the most was an hour spent noshing with locals at a rooftop café in a typical neighbourhood.  If you can call this view typical.   It's the type of moment that reminds you that the world is not such a big place.
Dramatic walks in Ronda, Spain
I'm not sure why the city of Ronda was built on two sides of a deep gorge, but the bridge spanning it has to be one of the most impressive sights in Spain.  Or anywhere.   I took two walks, one on each side of the bridge, into the canyon.  Surrounded by its 100 metre high walls and the Sierra Mountains, the views in all directions were dramatic and beautiful.
Sailing the Baltic Sea with Windstar Cruises
The most extraordinary experience on my list of the top ten travel bliss moments of 2017 was sailing the Baltic Sea on a small ship with Windstar Cruises. 
It was the Windstar Cruise that took me to some of my favourite destinations of the year, Tallinn, Estonia (cover photo above), Stockholm and St. Petersburg.  And while the destinations are the stars of the show, the personalized service aboard made traveling all the more enjoyable.  It's the yacht where everybody on staff knows your name and remembers your preferences! 
Windstar has a tradition of playing majestic music as the sails unfurl overhead and the ship makes its way out of the harbour.  It may sound a little corny, but it was quite stirring on that first day as we sailed through the Swedish archipelago.  It was already clear that this trip would be a travel bliss memory of a lifetime.
Pin it: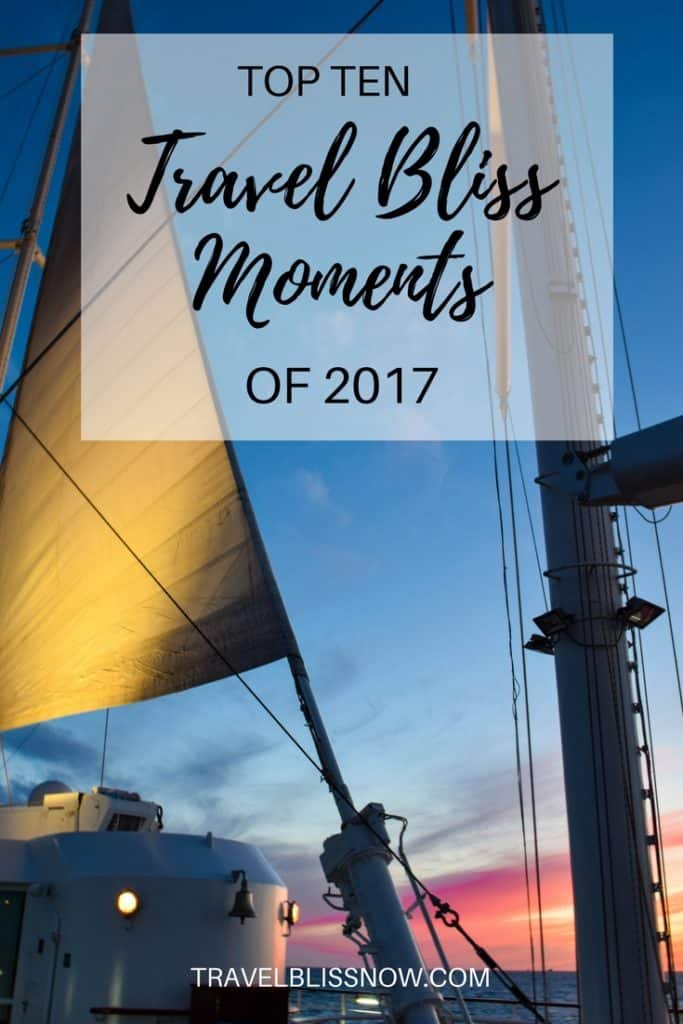 You may also like:
How to Plan the Perfect Do-Nothing Beach Vacation
How to Eat Like a Local in Lisbon, Portugal
How to Take Better Photos and Discover Lisbon in One Easy Step