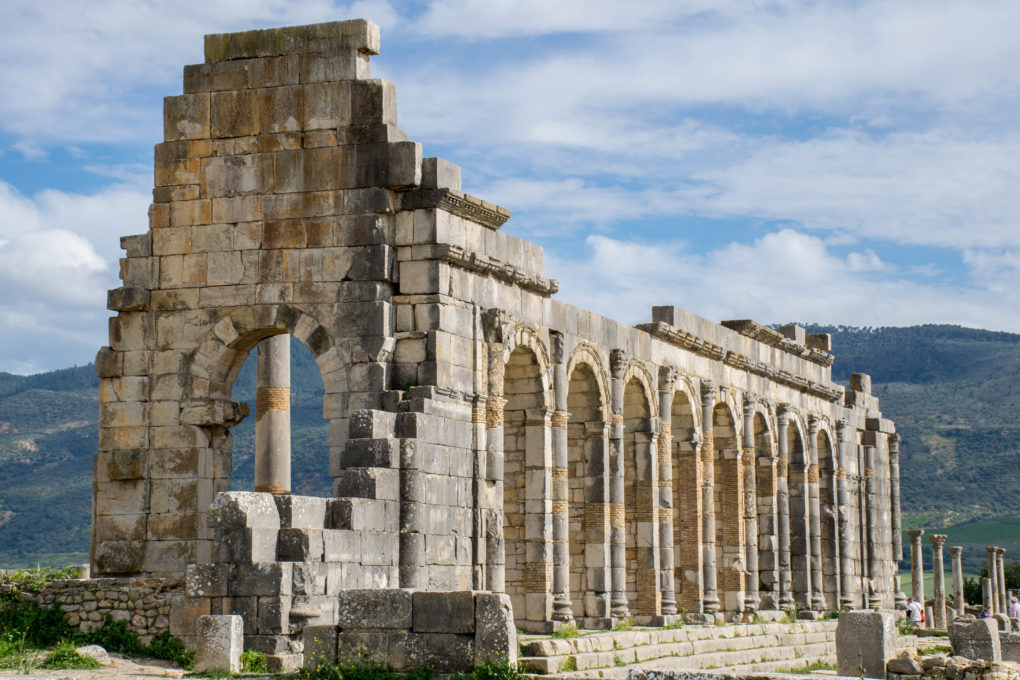 A TOUR DOWN HEDONISM LANE IN VOLUBILIS, MOROCCO
"It was an anything goes society," said our guide, Rachid.  "It had a public library for culture, bath houses and brothels for a happy ending.  Like an all- inclusive."
The ancient Roman ruins of Volubilis is a UNESCO World Heritage site in Morocco, about 25 kilometres north of Meknès.  The Romans took over this settlement around 25 B.C.  and built it into a fun and prosperous city, something like the Las Vegas of its day. 
I recently visited the place as part of a fascinating tour with G Adventures. 
The Romans didn't invent hedonism – – the devotion to pleasure as a way of life.  But, as our entertaining guide pointed out, they were very good at it.
It's better to be rich
"It was great to be Roman, but even better to be rich," said Rachid.  "They knew how to live."
At its peak, Volubilis was a wealthy capital of over 10,000 people, built in a similar layout to Pompeii.  Residents made their money on the export of olives and olive oil,  grains and wild animals for the gladiator arenas in Rome. 
One thing I didn't expect was that Volubilis is surrounded by a lush, green countryside which looks a lot like Tuscany.  The Romans must have felt at home here.
Mansions & mosaics
The city's elite lived at the best addresses with great views, and elaborate mosaic flooring.  Wonderfully preserved, it's difficult to fathom that people have been walking on these floors for centuries. 
The themes portrayed in the mosaics reveal something about life in those times.  They reflect Greek and Roman mythology, wild African animals, and often scenes of a more salacious variety.
Bath houses, bathrooms & brothels
Like many Roman cities, Volubilis had a complex water system that flowed below one of the streets from a spring in the hills and supplied the homes and luxurious bath houses.   Rachid took a seat in one of the upscale bath houses to demonstrate its comfort.  I wonder if they served those cocktails with the little umbrellas there.
The water system also provided under floor heating, and a sewage system to flush the waste water into the nearby river.
The wealthiest people had private bathrooms in their homes but communal bathrooms were the height of the social scene.  As Rachid explained, people would sit on this ledge, facing inward for conversation, and hanging their bum over the outward edge to do their business.  According to Rachid, it also served as a vomitorium, to address the Roman penchant for over indulging in food and wine.  One visit, and you can go back for more!
Rachid delighted in showing us a surprise.  It was a brothel, "happy endings right this way".   Apparently, Roman men had very large… egos.
Lavish Buildings
The Romans also stoked their egos by building lavish buildings and monuments. 
One of the most important public spaces is the temple, with its Corinthian columns and flight of steps.  The stone slab in front was used for animal sacrifices to the gods.
The Basilica, below, was a court of justice, considered to be one of the finest in Africa. 
The triumphal arch, at the end of the city's main street, is one of its most distinctive sights.  It was originally topped by a bronze chariot pulled by six horses, and, at its base, statues of nymphs poured water into carved marble basins.
Unhappy endings
The Roman empire collapsed just over 200 years after Volubilis was established.  While there were other residents, the site was looted and, in 1755, seriously damaged by the same earthquake that flattened Lisbon.
Now, the only residents left are a pair of storks who have nested on top of the Corinthian columns.
For the hedonistic Romans, it seems the ending wasn't so happy after all.
Perhaps you can have too much of a good thing.
More Information:
To get there:  I visited as part of the "Sahara & Beyond" tour, a National Geographic Journey with G Adventures.  You can also reach Volubilis via taxi from Meknès.

Tourism Information:  Visit Morocco
When to go:  Spring is the best season to visit, as it gets very hot in the summer.

You may also like:
8 Reasons to Add Essaouira to Your Morocco Trip
It's Raining Cats & Cats in Morocco
The Versailles of Morocco:  Meknès