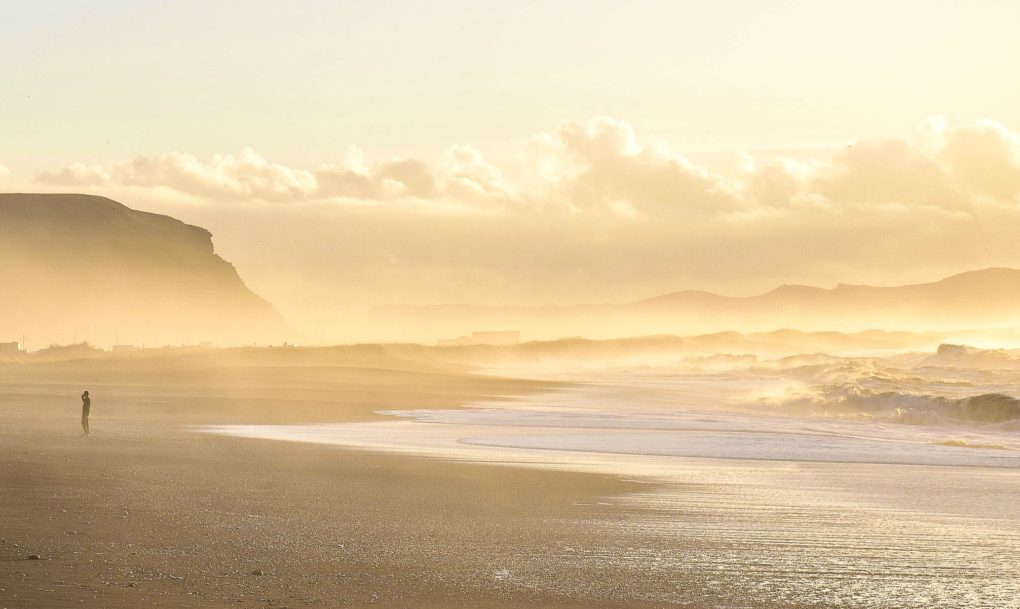 A VIEW WITH A ROOM: MY ICELAND ROAD TRIP
I have to admit that my camping days are mostly behind me.  I have a strong affinity for high thread count sheets and electric hair appliances.
But the freedom to tour Iceland's natural beauty with no set schedule proved to be irresistible.  An October road trip in a camper van along the south coast was the chance to revel in a different kind of luxury.  I could stop anywhere, anytime to take in the jaw dropping views in this country. 
Even better, I could park my room at the view.
That's what I did just steps away from the black sand beach in Vik where I was rewarded with a spectacular orange fading to purple sunset, and a misty zen sunrise.  During the night, I slept to the sounds of the roaring ocean and raindrops on the roof.
The Camper Van
I picked up the camper for my 5-day Iceland stopover from the Rent.is office at the airport.  It was a quick and easy process, which was much appreciated after an overnight flight.
My new home was a 2015 Renault Kangoo minicamper, about the size of a standard minivan.  It had a manual drive, which is not an issue for me, but may be a consideration for some.  One of the key advantages from my perspective is that the Rent.is van comes with a GPS navigation system, USB port and wifi, which was available along most of my route.  I had initially misunderstood the wifi password but this was cleared up with a quick email.  A printed instruction sheet might help for those of us with poor retention in the early hours of the morning.
The van was clean and surprisingly comfortable for a non-camper like me.  It has a double bed, with warm sleeping bags and pillows.  It also has a heating system, which I used at night.  I was cozy and rocked to sleep by the winds of Iceland.
The van also has everything you need for cooking – a small gas stove, dishes and a table with chairs.  Owing to the windy and rainy weather during my visit, I have to admit that I found it easier to pick up some quick bites along the way.  I would have enjoyed sitting out in better weather.  Rent.is also provides a big jug of water in the van, which came in handy.
Since you're probably wondering, the camper does not have bathroom facilities. Although most campgrounds are closed in the winter (after September), I had no trouble finding clean facilities at attractions, hotels or restaurants and gas stations.  Also, virtually every town has a hot pool, with showers.
Driving in Iceland
Driving in Iceland is pretty straight forward.  The most important thing is to keep a close eye on the weather, which is highly changeable in Iceland.  On my first day, I encountered gale force winds up to 85 kilometres per hour.  It felt like I was being pushed around on the road, so I decided to heed the weather warnings and linger at the Blue Lagoon until it passed. 
There are a few other things to note.  The highway is narrower than what we're used to in North America, and you may also encounter single lane bridges.  The highest speed limit is 90 kilometres per hour.  You can get more detailed driving tips from Iceland Academy.
As a general rule, I found that it takes longer than expected to get to your destination.  That's because of the slower driving conditions, but also because it's almost impossible to avoid frequent stops to gape at the incredible scenery – – one of the main reasons to visit this beautiful country in the first place.
My South Coast Route
From the airport, I drove straight to the Blue Lagoon for some relaxation.  After the winds died down, I proceeded on the Ring Road along the south coast, stopping in the town of Selfoss for supplies and then on to the sights as far as the Jokulsarlon Ice Lagoon, high on my list of places I wanted to visit.  It didn't disappoint.  I also spent a day and a half in the Reykjavik area to see the city and to go horseback riding.
I'll be writing more about the trip, but one thing that surprised me the most was the fabulous scenery between the town of Vik and Jokulsarlon.  From unnamed waterfalls to lava fields to mountains and glaciers, I was so excited and thrilled to have the freedom to explore this area and to take in as much as I could. 
Random Moments of Bliss
One of the inherent, and most delightful aspects of having the freedom to explore is the freedom to stop and enjoy the random moments – – the sun breaking through the clouds and more rainbows than I have ever seen in a short space of time.  That's the kind of luxury and travel bliss for which I will happily give up my hair appliances – – temporarily anyway.
More Information:
Campervan:  Rent.is
Driving Tips:  Iceland Academy – Driving in Iceland video

Useful Sites:  Iceland Road Conditions    Iceland Meteorological Office
Suggested Reading: Lonely Planet Iceland (Travel Guide)
You may also like:
4 Not-to-Miss Views near Vik, Iceland
What You Need to Know to Bliss Out at the Blue Lagoon in Iceland
Photos of the Week:  Rainbows in Iceland
Rent.is provided the camper van to me on a complimentary basis, but my opinions are always my own.