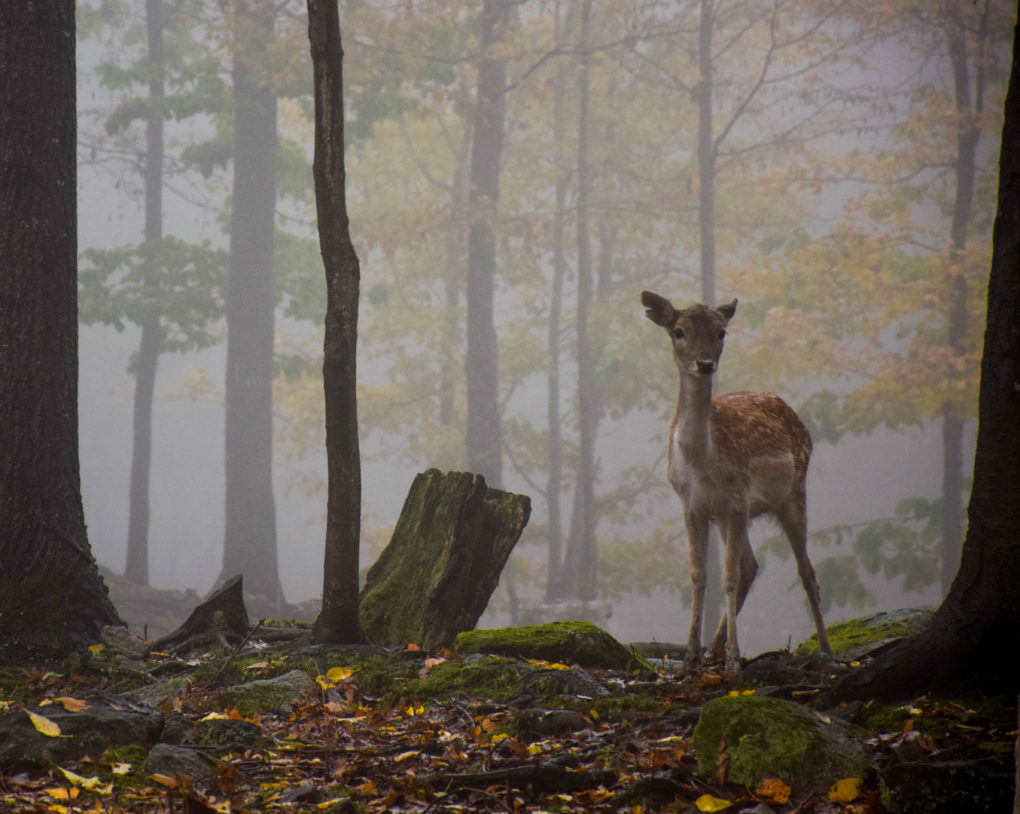 5 REASONS FOR A FALL VISIT TO THIS WILDLIFE PARK IN CANADA
I swear I saw Bambi step out from the fog at Parc Oméga, a unique wildlife park in Canada.  It was a "wow" moment on that damp day, but just one of many while touring the park.
Located in Quebec, about one hour's drive from Montreal or Ottawa, this 2200-acre park is a unique showcase of Canada's wilderness.  A 15-kilometre car path takes you through Canada's environments from forests to the prairie to the mountains.  There are also hiking trails and demonstrations to learn about the park's conservation and rescue and release programs.
Fall is a remarkable season of change as nature prepares for the harsh Canadian winter. 
Although Parc Oméga is an amazing place to visit year round, here are five reasons why the fall is worth a special visit.
Fall colours
Although my recent visit was a little early for the peak of the fall colours, the wildlife park in Canada is filled with signature maples and other trees that become awash in shades of red, orange and yellow.  This region in Quebec is among the best for leaf peepers.
And sometimes, a bison will photo bomb your shot.
Love is in the air
One of the special things about autumn is that it's a time for courtship for many in the deer family.  The male elks, in particular, put on a spectacular show in an effort to find a mate.  In their world, it's the females who choose their favourites.  So, the males invest considerable time in getting all gussied up for the season.  They roll in the dirt and their own urine to amp up their pheromone power.   And they call out to attract females and to warn other males to stay away from their harem.  It's known as bugling and we could hear their calls echoing through the forest.
Take note, this is also a time of year when the bull elks can be aggressive.  We watched one chase a rival out of his territory.
These fallow deer follow a similar pattern.  We watched as this male dug a hole, urinated in it and that nestled into it.  It clearly drove the female wild and they quickly disappeared into the forest, off to the privacy of their honeymoon suite.
This cheeky bunch
Parc Oméga has a wolf observation deck, the likes of which you won't see at any other wildlife park in Canada.  (See my post on Dancing with the Wolves here.)  From here, you can learn more about the interaction in a wolf pack.
In the fall, the wolves develop a deeper and denser coat to prepare for winter.  Of course, there's always that one kid who has to make a face for the school photo.
Cuteness Overload
Arctic foxes turn whiter in the fall to provide camouflage for the winter.  They're shorter and smaller than red foxes to better retain heat in their northern habitat.  They're not an easy animal to spot in the wild, another reason why the experience Parc Oméga is so special.
The enchanted forest
Spending time in the forest has been shown to reduce stress and improve your health. 
And on that day, with the morning fog and the fall colours just starting to show through, it was truly magical.
More Information:
Visit the park: The park is located about one hour's drive from Ottawa or Montreal. See Parc Oméga for details.
About this region of Quebec: Outaouais Tourism
Thank you to the Parc Oméga for hosting my visit. My opinions are, as always, my own.

Pin it: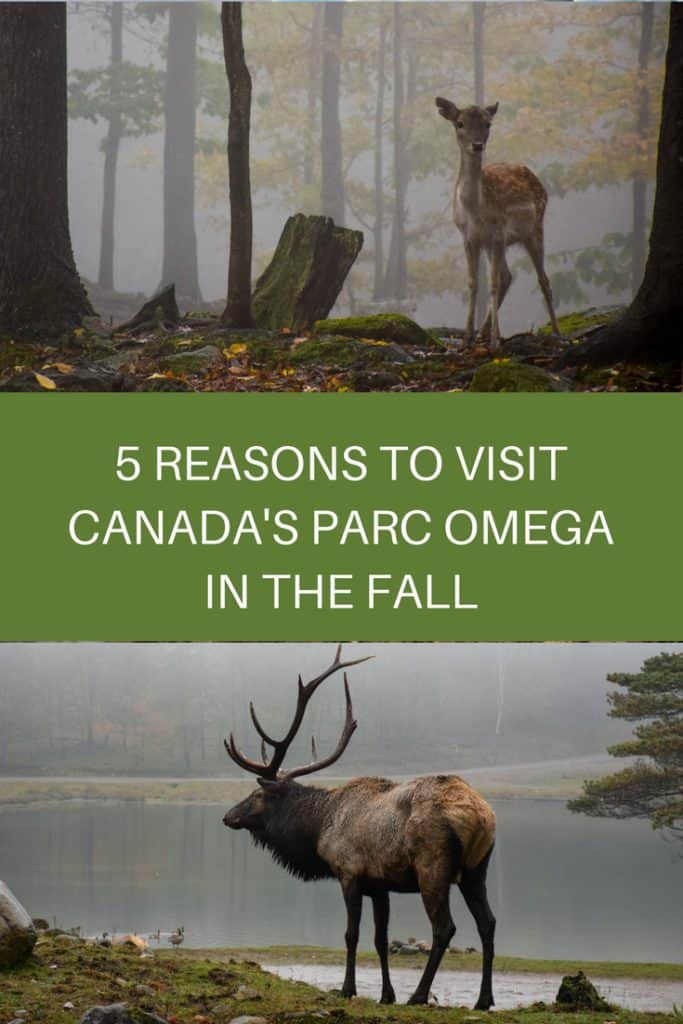 You may also like: 
Dancing with Wolves at Parc Omega, Canada
What You Need to Know about Visiting Wolf Dogs
Things to do in Mont Tremblant Canada When it's Not Ski Season