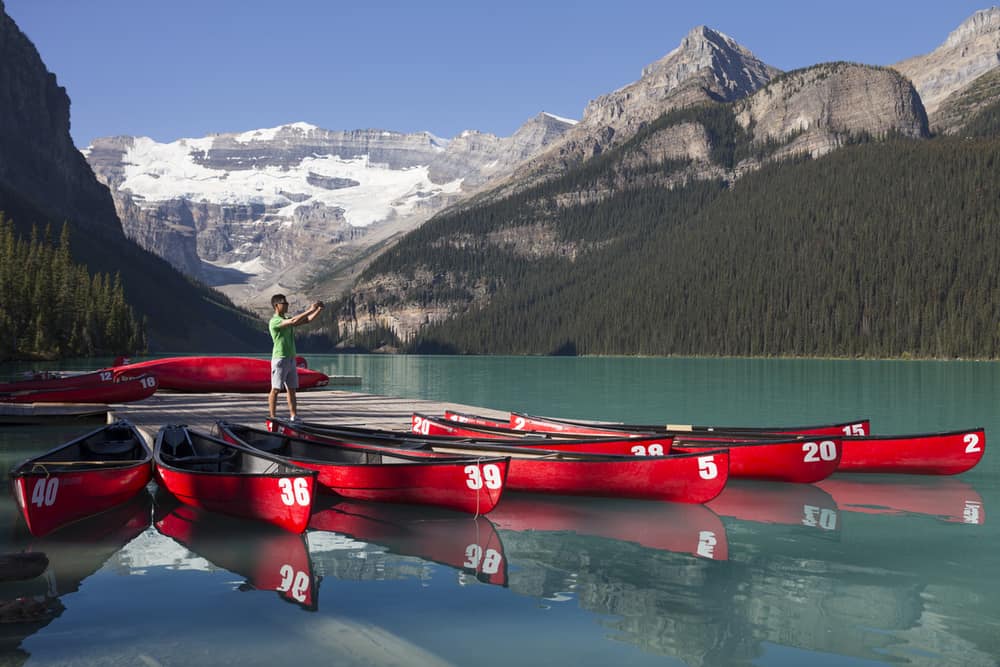 CANADA: THE BEST PLACES TO GO EACH MONTH
I may be a proud Canadian, but I really do believe that Canada is one of the most beautiful countries on earth.
Yet, for some reason, it's sometimes overlooked as a travel destination.   Maybe we're too nice when it comes to extolling our virtues.
But this year is different.  This year, we're going to get loud about how great Canada is because it's our birthday.  Canada is 150 years old and we're having a party all year long.   
That's a big reason to visit Canada this year.  That and the jaw dropping natural scenery, dynamic multicultural cities and friendly people.  It's also good value given our lower dollar, and this year, entrance to all of our National Parks is free.
I'll be filling you in on the must-see Canadian destinations in a series of posts over the year, starting with some suggestions on where to visit and when.
March – Any Sugar Shack
That thing about Canada and maple syrup?  Not a stereotype actually. 
Canada produces almost 85% of the world's maple syrup, and the sap usually gets flowing in March.  Sugar shacks are where the sap from maple trees is boiled down into syrup.  Traditionally, it's also where people gathered to celebrate the end of a long Canadian winter.  And that celebration involves eating.
At most sugar shacks, it's all about the pancakes and taffy on snow.  In Quebec, there's usually more, including pea soup, ham, baked beans, meat pie and pork jowls.  It's all served with vats of maple syrup.  It's a maple happiness experience!
You can find sugar shacks mostly in Quebec, Ontario and Nova Scotia.  There's a full listing in this post on where to make this sweet escape.
April – British Columbia
The great thing about April in B.C. is that spring is fully sprung in Vancouver and Victoria, but you can still go skiing in the mountains. 
The famous Whistler skiing mecca is just a two-hour drive from Vancouver.  In Vancouver, you can see the spring blooms in Stanley Park and then take a mini-tugboat ferry over to Granville Island.  The Public Market is a food lovers' paradise and the Island (actually a sandspit) is also one of the city's most important cultural districts with theatres, artisan workshops and craft studios. 
Vancouver has a vibrant foodie scene, with the local food trucks leading the way.  Favourites include the Pan-Asian creations at the Roaming Dragon and tex mex fare at Tacofino.   Visit several and store up the energy for spring skiing.
May – Ontario
Canada's capital city, Ottawa, is at its most picturesque during the spring tulip season.  The annual Canadian Tulip Festival runs from May 12 to the 22nd this year.  There's even a special Canada 150 tulip to celebrate our birthday.
The festival signifies a special friendship between Canada and the Netherlands. 
During World War II,  the Dutch Royal Family was spirited out of the Netherlands to safe exile in Canada's capital, Ottawa.   As a show of gratitude,  they presented to the people of Canada 100,000 tulip bulbs, and the family sends more every year. 
The event is not just about the fields of flowers (see some photos from 2016 here).  There are concerts and family activities, and it's a great time of year to visit the capital city sights like Canada's gothic Parliament buildings, the National Gallery and Museum of History.
June – Newfoundland
Early June is the perfect time for for both whale and iceberg watching in Newfoundland and Labrador.
It's one of the most spectacular whale watching places in the world, with 22 species of whales in the area.  You can get a glimpse of them breaching the water surface on a boat tour, or on a sea kayak.  They can even be seen from shore.
Iceberg Alley is an area stretching from the coast of Labrador to the northeast tip of Newfoundland.  Every spring, 10,000-year-old icebergs parade down the coast from the Arctic.  This is one of the awesome "to-do" items on my bucket list.
July – Alberta
It's tough to make a choice for the month of July.  Canada's birthday is celebrated on July 1st, and that's when the party will kick into high gear all across the country.
The biggest event will be in the capital, Ottawa.  There's a rumour that the Queen may even join us.
But once that party is over, my suggestion is to get your cowboy on at the Calgary Stampede in Alberta.   The Stampede, called "the greatest outdoor show on earth", runs from July 7 – 16.  The biggest events are the rodeo and the chuckwagon races, but the Calgary spirit is also something special.  Everyone wears jeans during Stampede week, and there are free pancake breakfasts every morning.
After a few days of stampeding, head for the hills – to Banff and Lake Louise in the majestic Rocky Mountains.  On the way, don't miss Canmore and the aquamarine Spray Lakes. While you're there, take a once-in-a-lifetime helicopter tour over the Rockies.  Guaranteed to be spectacular!
August – Nova Scotia
In August, the maritime province of Nova Scotia will welcome the international fleet of tall ships for this year's Tall Ships Regatta. The iconic Bluenose II, shown on the Canadian dime, will be front and centre during the event.
Other must-sees in Nova Scotia include the historic port city of Halifax, which was the gateway into Canada for one million immigrants, and the Peggy's Point Lighthouse, one of the most photographed sites in the province.
You should also  be sure to take a drive along the Cabot Trail in Cape Breton Island to see some of the most dramatic coastal landscapes in the country.
September – Prince Edward Island
Prince Edward Island, Canada's smallest province, is known for its red-sand beaches, lighthouses, and fertile farmland, as well as its seafood.  You can always find a classic lobster supper in a church or community hall, where the menu includes a steaming plate of mussels, a whole lobster, and pie (usually lemon meringue).  Lobster bibs are recommended!
In September, there are foodie events all over the Island as part of the annual Fall Flavours Festival, highlighting local specialties and music.
Of course, Prince Edward Island is also popular with fans of the novel, Anne of Green Gables
.  A popular tourist destination for these kindred spirits is Green Gables House and several museums located in Cavendish in Prince Edward Island National Park.  This is the setting that inspired L. M. Montgomery's novel about the beloved red-haired orphan.
October – New Brunswick
The tourism slogan for New Brunswick is "east of ordinary" and that well describes this scenic province. 
Where else could you see a place called Reversing Falls, where the rapids flow backwards at high tide.  It's caused by the Bay of Fundy, a large bay in the Atlantic Ocean that is shaped like a funnel, creating the highest tides in the world.  The high tide pushes against the flow of the river and reverses it. Likewise, the Hopewell Rocks are a top sightseeing draw at both high and low tides. At high tide, the Flowerpot Rocks look like tiny islands and kayakers paddle between them. When the tide level drops, visitors can walk on the ocean floor and look up at the heavily eroded pillars.
New Brunswick is especially beautiful when the fall colours are at their best.  Check out these five scenic drives guaranteed to be Instagram-worthy.
November – Manitoba
November is prime viewing time for polar bears in Churchill , Manitoba, another bucket list item for me.
This is when the bears begin their move from their summer habitat on the tundra back to seal hunting territory on the pack ice that forms every winter over the Hudson Bay.  It's one of the few human settlements where polar bears can be observed in the wild.  The most common way to see them is from local tundra vehicles, designed to move well over snow and ice and to protect passengers from hungry bears. 
It's not the peak of the season, but there's also a chance of seeing the northern lights in November. 
Will it be cold?  Definitely, but its worth it to see these majestic creatures.  Make sure you're prepared for cold conditions with several layers of clothing, a parka, insulated boats and mitts.
December – Quebec City
Old Quebec City is a magical place to visit over the holidays.  Founded four centuries ago by the French, the city exudes an old world charm that becomes even more enchanting when it gets decked out for the holidays.
The cobblestone streets,  gabled rooftops and quaint cafes will make you feel as though you're strolling back in time through a European village.  There's even an old-fashioned Christmas market.  The tasteful Christmas decorations enhance that ambiance, and don't go overboard with flashy lights or plastic Santas (you can see photos in this post.)
You can't help but feel festive as you wander these streets, celebrating the holidays and 150 fantastic years of Canada.
More Information:
Tourism Information:  Destination Canada
Free National Park Pass:  2017 Discovery Pass
Suggested Reading:  Lonely Planet Canada (Travel Guide)
, Canada
by Mike Myers
You may also like:
10 Fairy Tale Castles in Canada You Can Visit
5 Gorgeous Fall Getaways in Central Canada