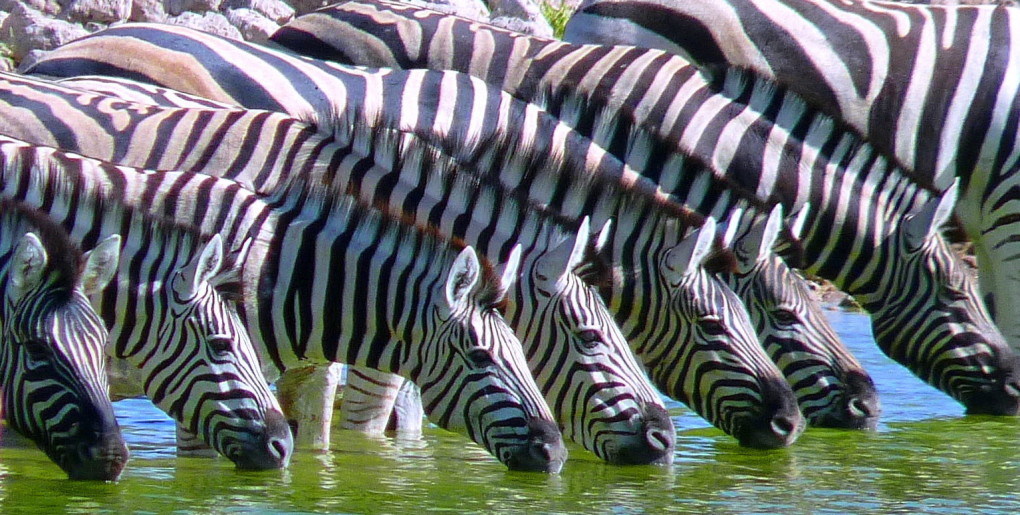 WHY NAMIBIA'S ETOSHA NATIONAL PARK SHOULD BE ON YOUR DREAM SAFARI LIST
It was a moment I'll never forget.
We were sitting in the jeep at a water hole when our guide said, "There are lions here".
What?  Where?
"Look where the other animals are looking", he said.  Sure enough, in between drinks, the other animals, mostly giraffes and zebras, were looking over at a grassy area just beyond the watering hole (and my camera zoom range), as if to say, "Lions, you're not going anywhere, are you?"
There were two male lions, brothers no doubt, and one female, who then stepped away into some tall, tawny coloured grasses for a bathroom break.  At that moment, an unwitting zebra started walking towards her.
Zebra, what are you thinking?
The lioness made herself flat in the grass.  And then she pounced.  The zebra took off, with the lioness close behind.  She got a paw on its rump when they disappeared into the bushes.
After awhile, one of the lions stood up and sniffed the air to see if dinner was served.  Just like a domestic cat, a lion has a scent organ on the roof of its mouth and it opens up the passage way by curling up its top lip into an Elvis sneer.
Then, the lion sat back down.  The lioness had failed to put dinner on the table.
But what a National Geographic moment!  We were all abuzz for the rest of the day.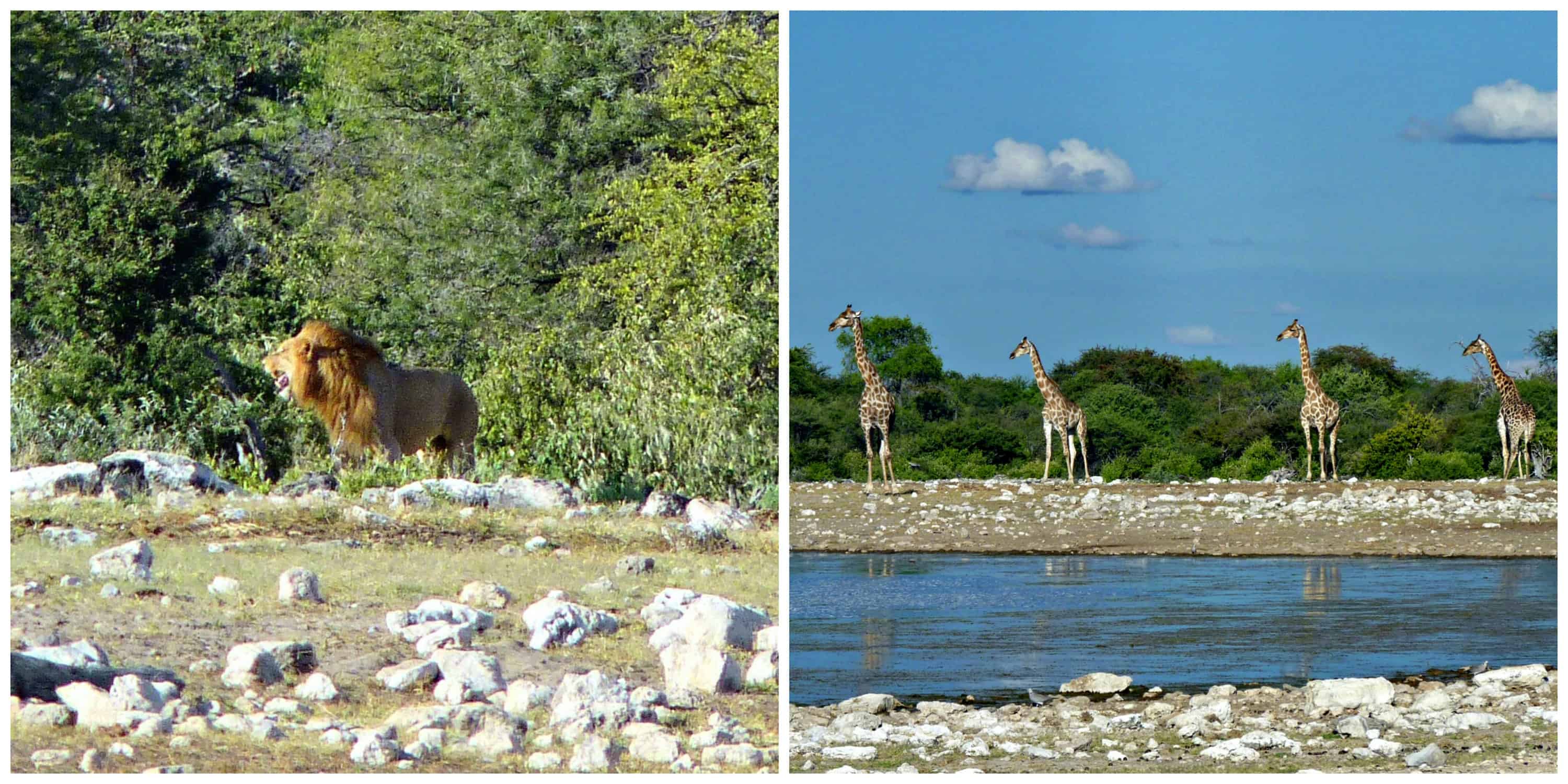 Park Facts:
Etosha National Park in Namibia is one of the world's best places for seeing wildlife.  At over 20,000 square kilometres, it's one of the largest national parks in Africa.  Its diverse landscapes from desert, to grasslands to bush account for the wide variety of animals here.
A distinctive feature of the park is a massive salt pan – so large it can be seen from space.   You might wonder why animals would hang out in such a barren place.  The answer is two-fold.  It works because there is no place for predators to hide.  And because there is enough water to be found at the 86 springs and water holes in the park. 
That's the beauty of it.  You can just park yourself by a water hole, and the wildlife will come to you!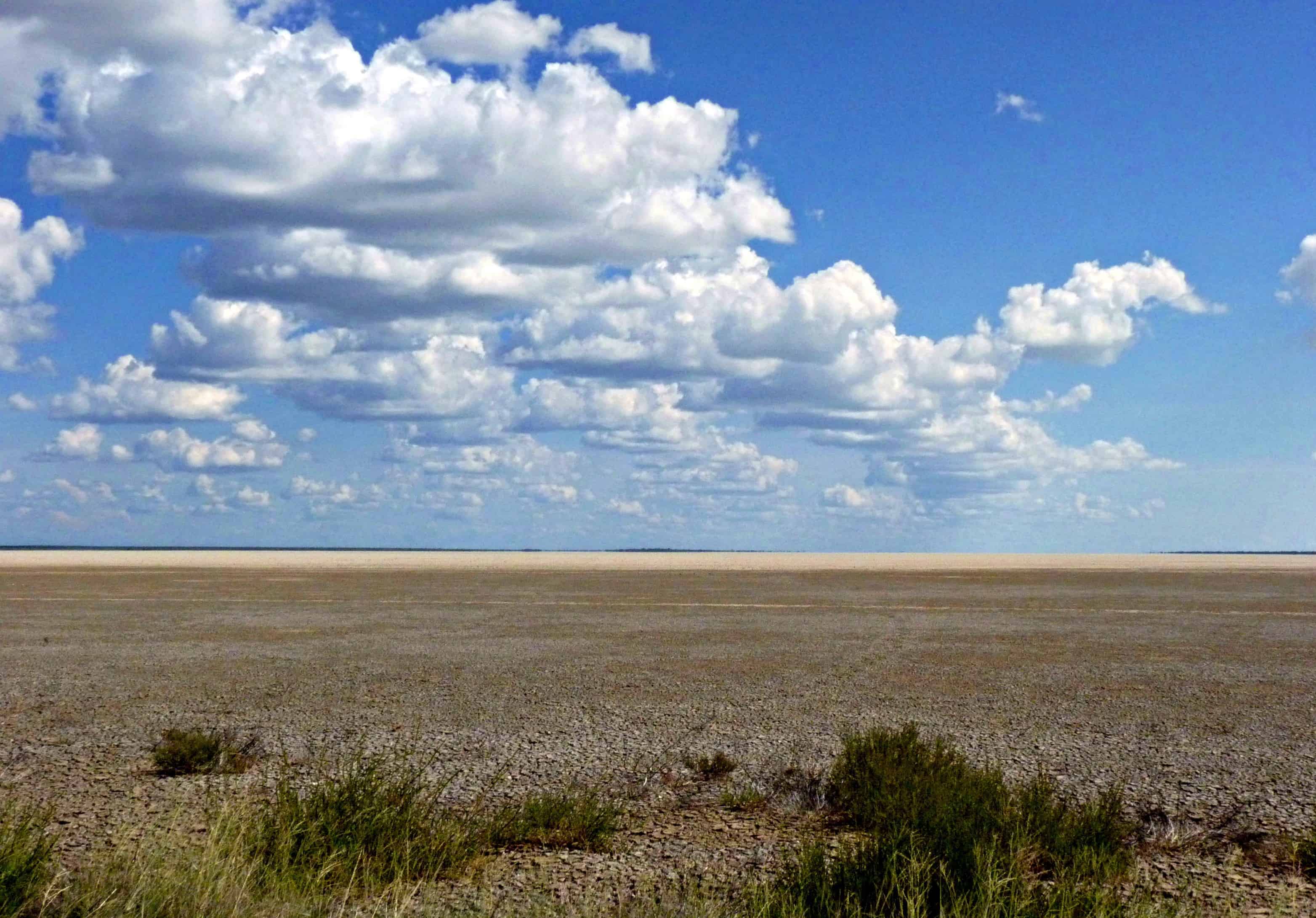 Birders' Paradise:
There are 340 species of birds in the Park, and it's an interesting mix.  During the rainy season, the pan fills with water and flamingos gather in a cloud of pink to breed.  The world's largest bird, the ostrich, lives here, as well as the heaviest flying bird, the kori bustard. And for colour, there is the lilac breasted roller.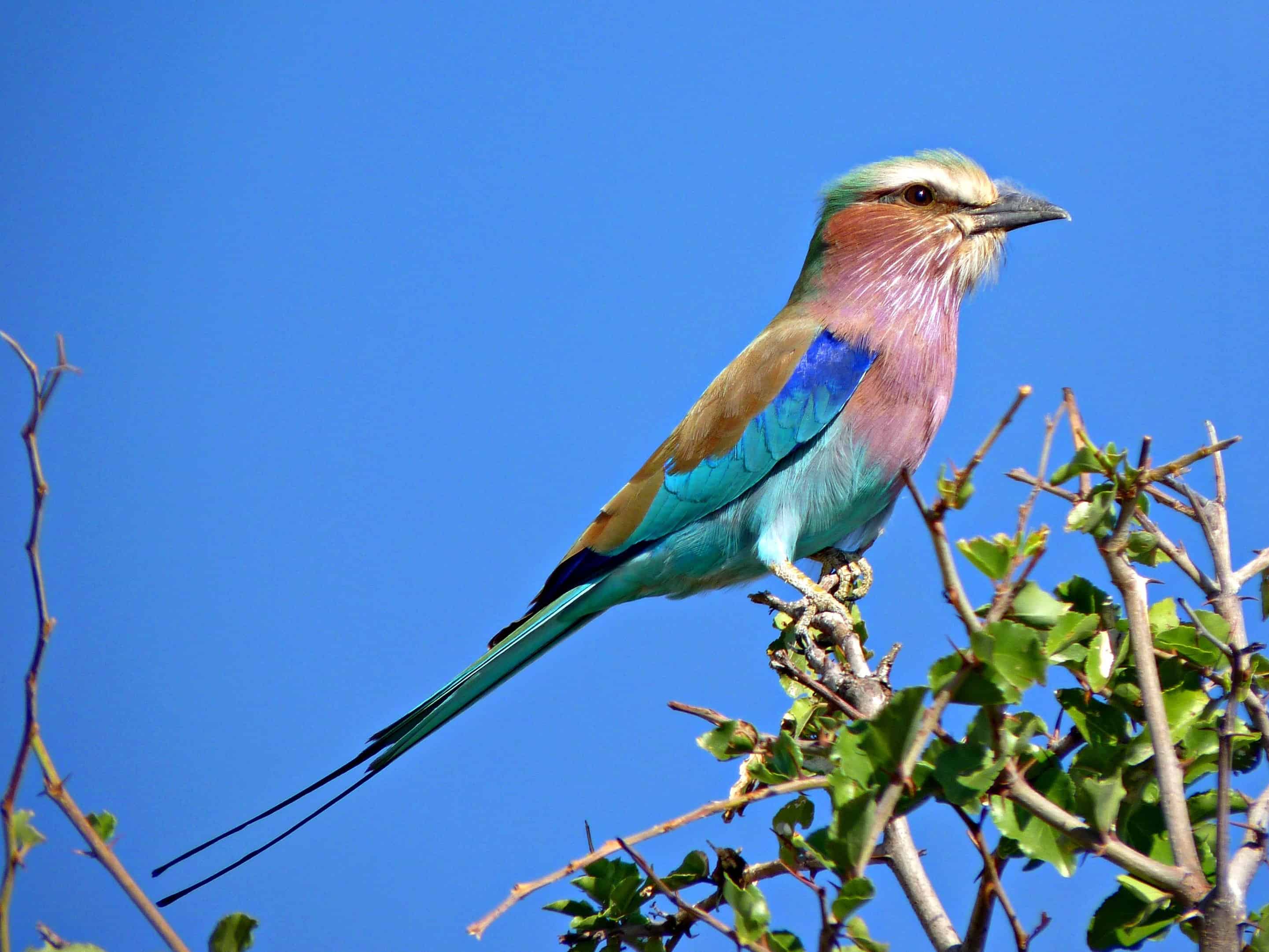 The Rarest Sighting:
Along with 114 species of mammals, the world's largest population of rare black rhinos roam the plains of Etosha.  These animals are critically endangered with, maybe, 5000 of them left in the world.  And we saw one!  It's a sighting so rare, that our guide, who has been to the park countless times, was shaking with excitement. Even the other animals in the surrounding area seemed to take note.

Just as I learned on a safari in South Africa  that the white rhino is not white, you'll notice that the black rhino is not actually black, but a grey, muddy colour.   It's thought the black rhino was so named simply to keep it from being confused with the white rhino.  The two are distinguished by the shape of their lips.  The black rhino has a grasping upper lip which it uses to draw plants into its mouth.

Like our guide, I was also thrilled to see such a rare and archaic beast.  I only wish it wasn't such a rare thing to happen.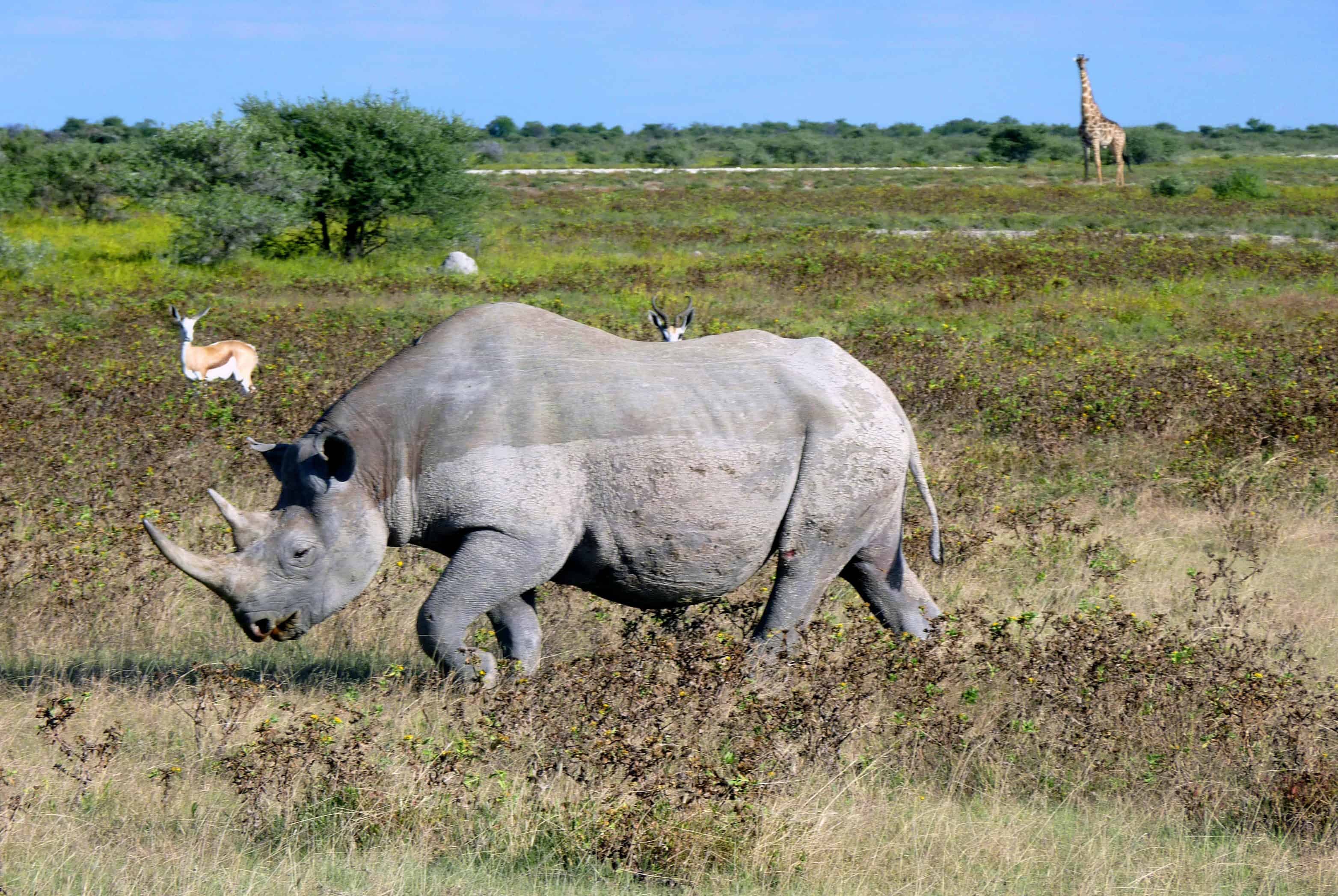 Ready for my Closeup Now
We saw many zebras and giraffes throughout the park.   Zebras are social animals, and we often saw them nuzzling together, sharing a good back scratch.
Giraffes are, of course, the tallest animal on land, and I loved to watch them move – – something you won't really see in most zoos.  When they walk, they move both feet on one side of their body in unison, followed by the feet on the other side.  Their necks sway back and forth, a picture of grace in motion.
And if you're looking for a photo opportunity, you can't miss with these two.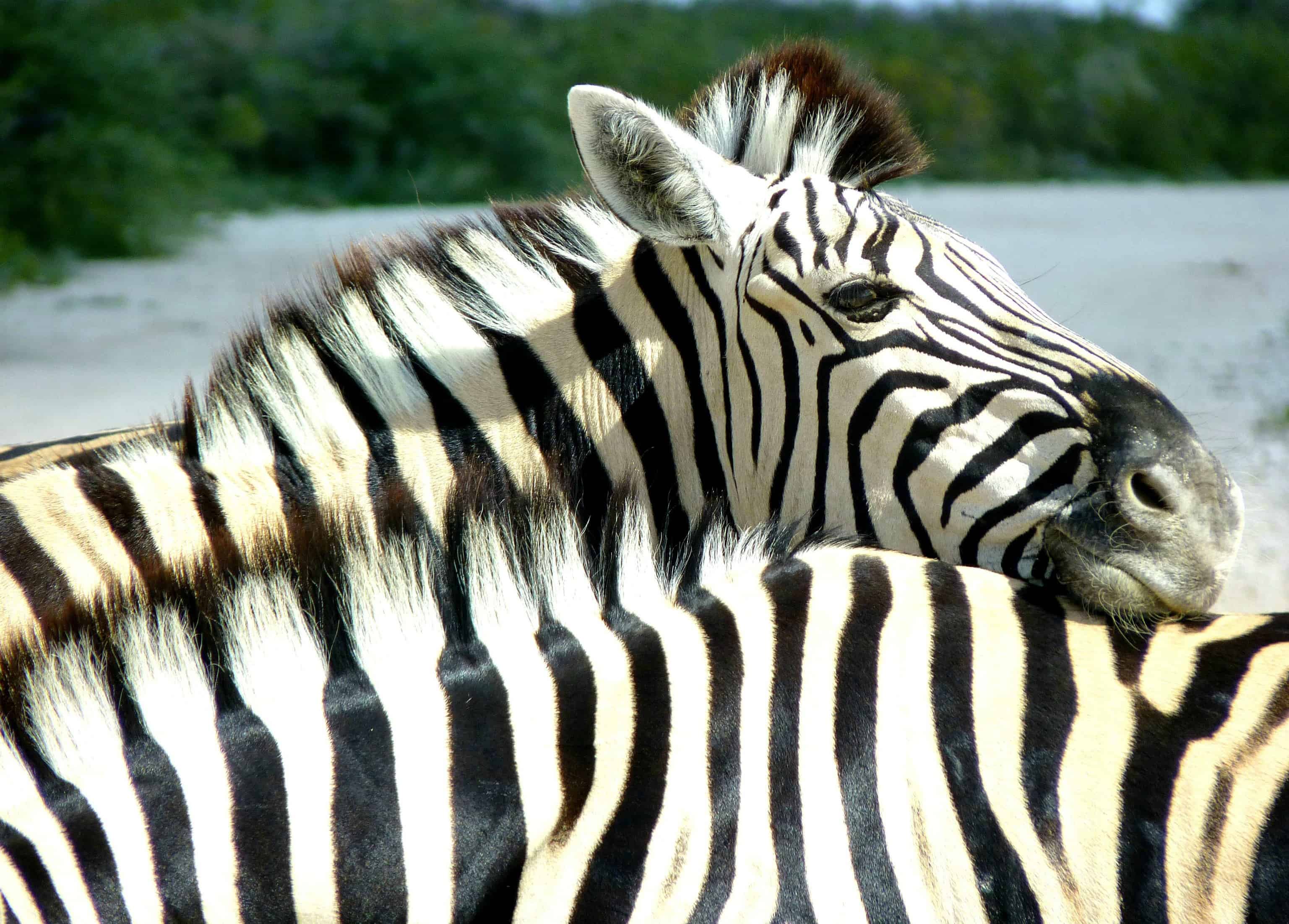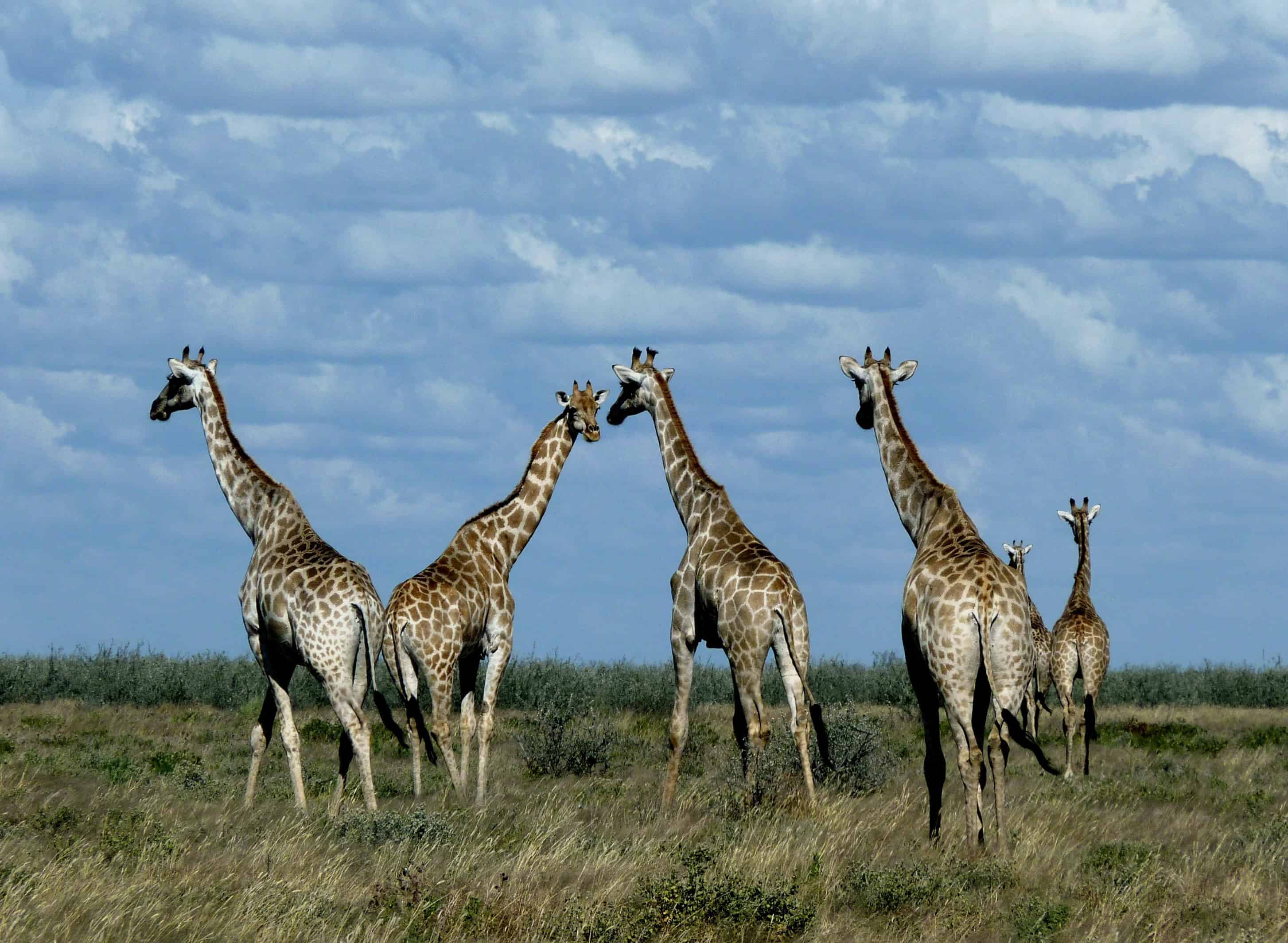 Where the Antelope Play
It was fascinating to see many types of antelope I'd never even heard of before.   These include the gemsbok, one of the largest, and the springbok which roam the plains.  In a bushier area, we saw a tiny Damara dik-dik hiding under a tree.  What a delicate creature!  This is Namibia's smallest antelope, seldom reaching heights over 39 centimetres.  Who knew?

The Elephant March
The elephants in Etosha are some of the largest in Africa due to the nutrients found in the ground.  Many of the elephants we saw were working on keeping their cool in the hot, dry weather.  One way they do this is by tossing dust over themselves which, presumably, works like bath powder.  And another, is to take a bath – in mud.  It was a delight to see elephant moms with their kids enjoying a morning at the spa.
My experience at Etosha National Park was filled with learning, wonder, and an unforgettable dash of drama.  It's a dream safari that's unfolding as live theatre right next door to the local water hole.