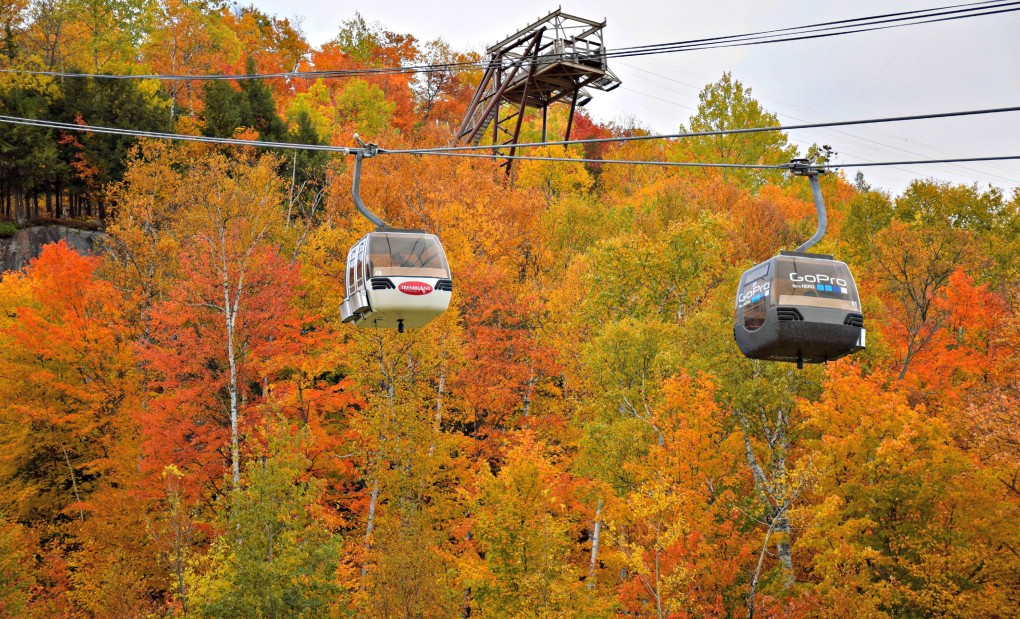 THINGS TO DO IN MONT TREMBLANT, CANADA WHEN IT'S NOT SKI SEASON
This is my first embarrassing blog confession. 
I am Canadian, grew up at the foot of the Rocky Mountains even, but I don't ski.   Cold, cost and coordination are all factors in this life decision.  And, although it does feel like some sort of defect in my 'Canadian-ness', it doesn't stop me from going to popular ski resorts, whether or not it's ski season.
I recently visited  Mont Tremblant, Quebec, to enjoy the clean, crisp air and brilliant fall colours.    Mont Tremblant is located in the Laurentian Mountains, about a 90 minute drive northwest of Montreal, or 2 hours northeast of Ottawa, Canada's capital.  The area is also served by an International Airport, with a log cabin terminal, of course. 
So, what to do in Mont Tremblant, other than skiing?
Wander the Village
Mont Tremblant has a charming pedestrian village which, albeit touristy, is definitely worth a wander.  Here you'll find quaint shops featuring local art and designer sports wear, as well as bars, coffee shops, and eateries.  Be sure to grab a beaver tale – – a Canadian pastry of flattened and deep fried dough, with any number of toppings from chocolate to nuts.  I prefer the original buttered version, with cinnamon sugar.
In season, you can also catch the gondola right from the village, and enjoy panoramic views of the fall spendour. 
Nearby, there is the new Casino de Mont-Tremblant where you can gamble, or people watch, in a building that looks more like a ski chalet.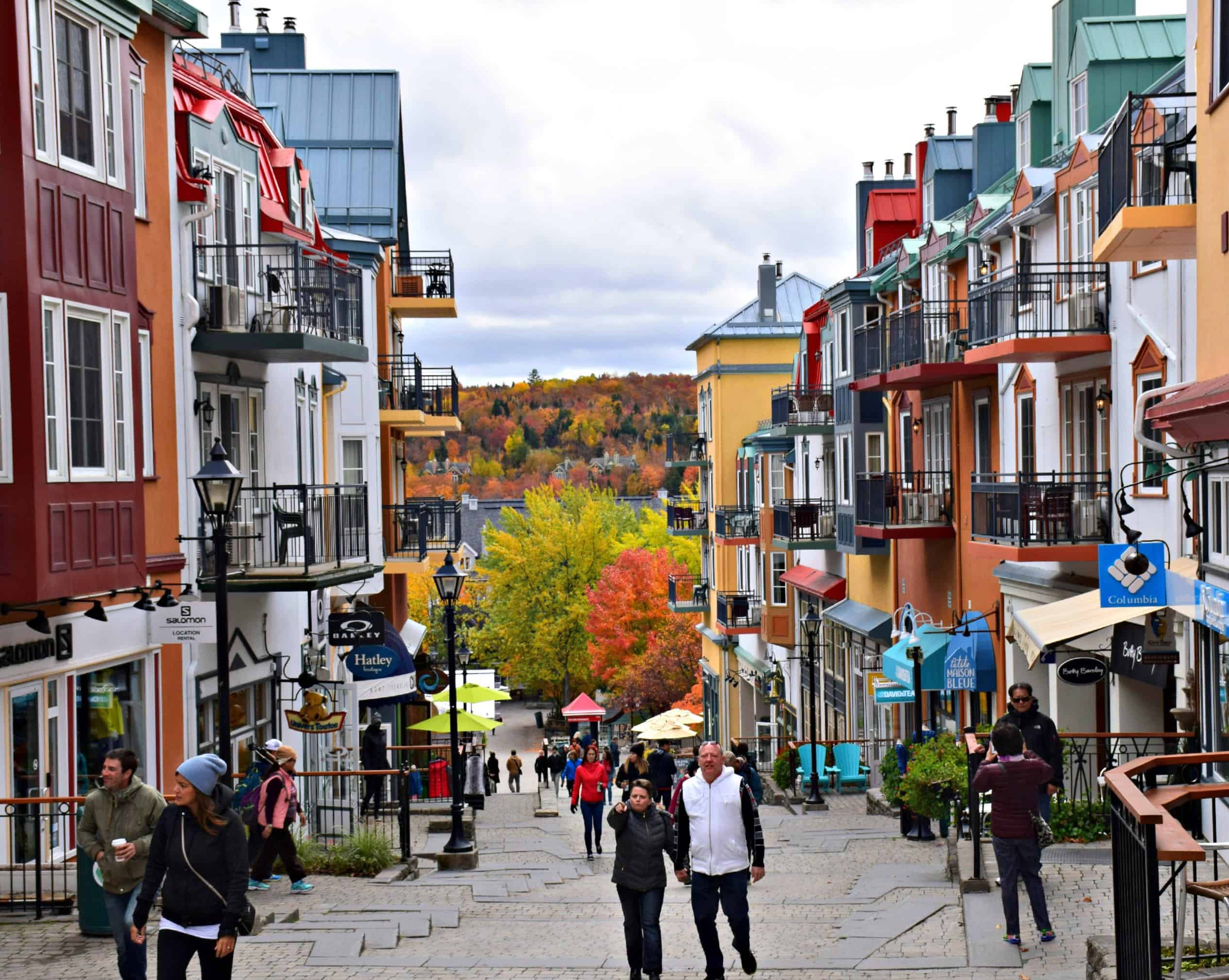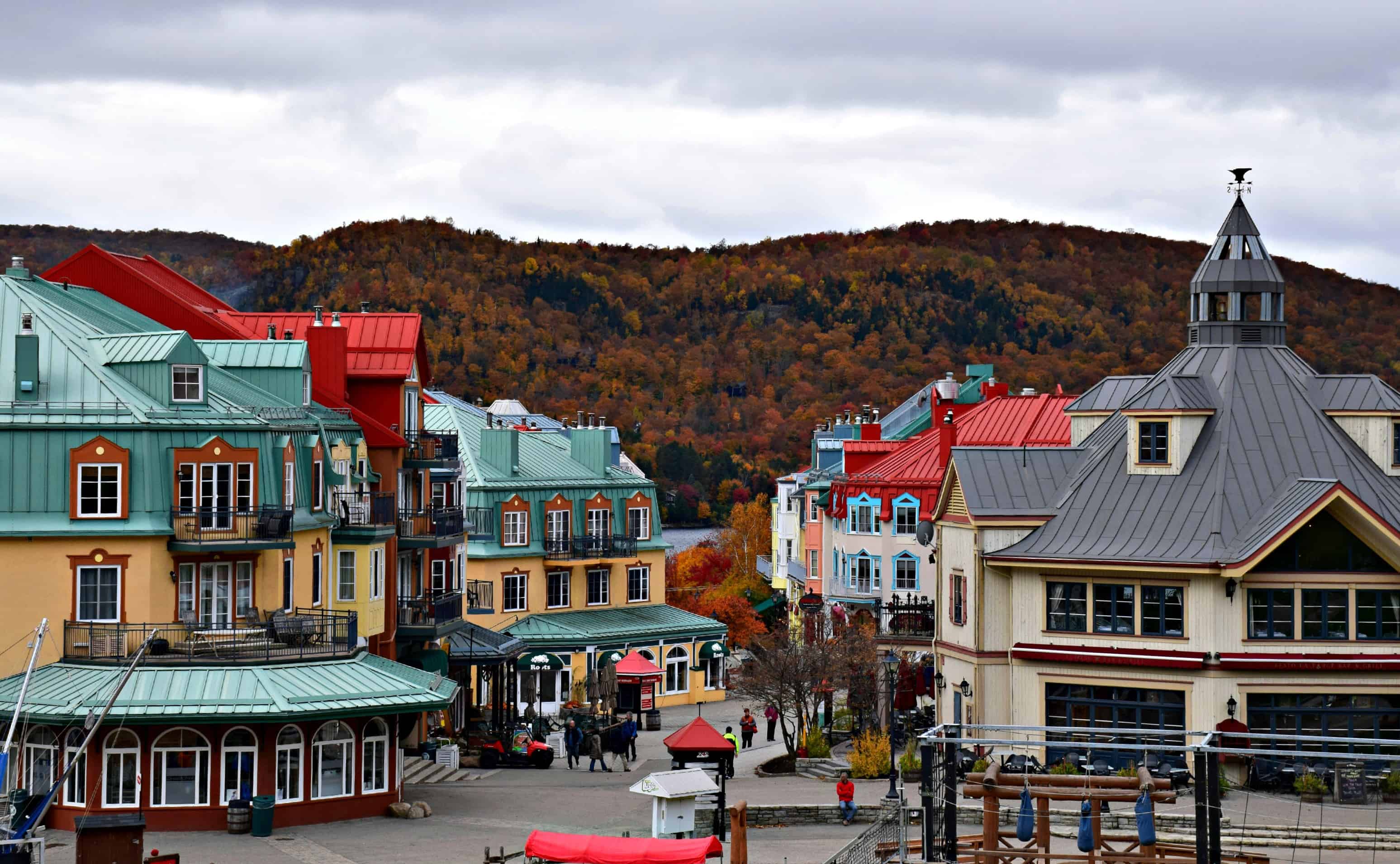 Sporting Activities
Golf is big here, with five golf courses in the area, one with the menacing name, Le Diable.  I must admit, I agree with Mark Twain, who said that "golf is a good walk spoiled".  That's why I prefer the walk, without the golf, otherwise known as hiking.  There are numerous trails in the region, especially in Mont Tremblant National Park.
In summer, it's a great place for water sports, such as swimming, canoeing and rafting.  There are six rivers and over 400 lakes in the Park.  For the adventurous, you can try zip lining, dune buggy driving,  horseback riding and rock climbing.  And in winter, you can skate on the lake once it freezes up, go snow shoeing, or take a sleigh ride.
You'll find more information on all of these activities on the Mont Tremblant Tourism web site.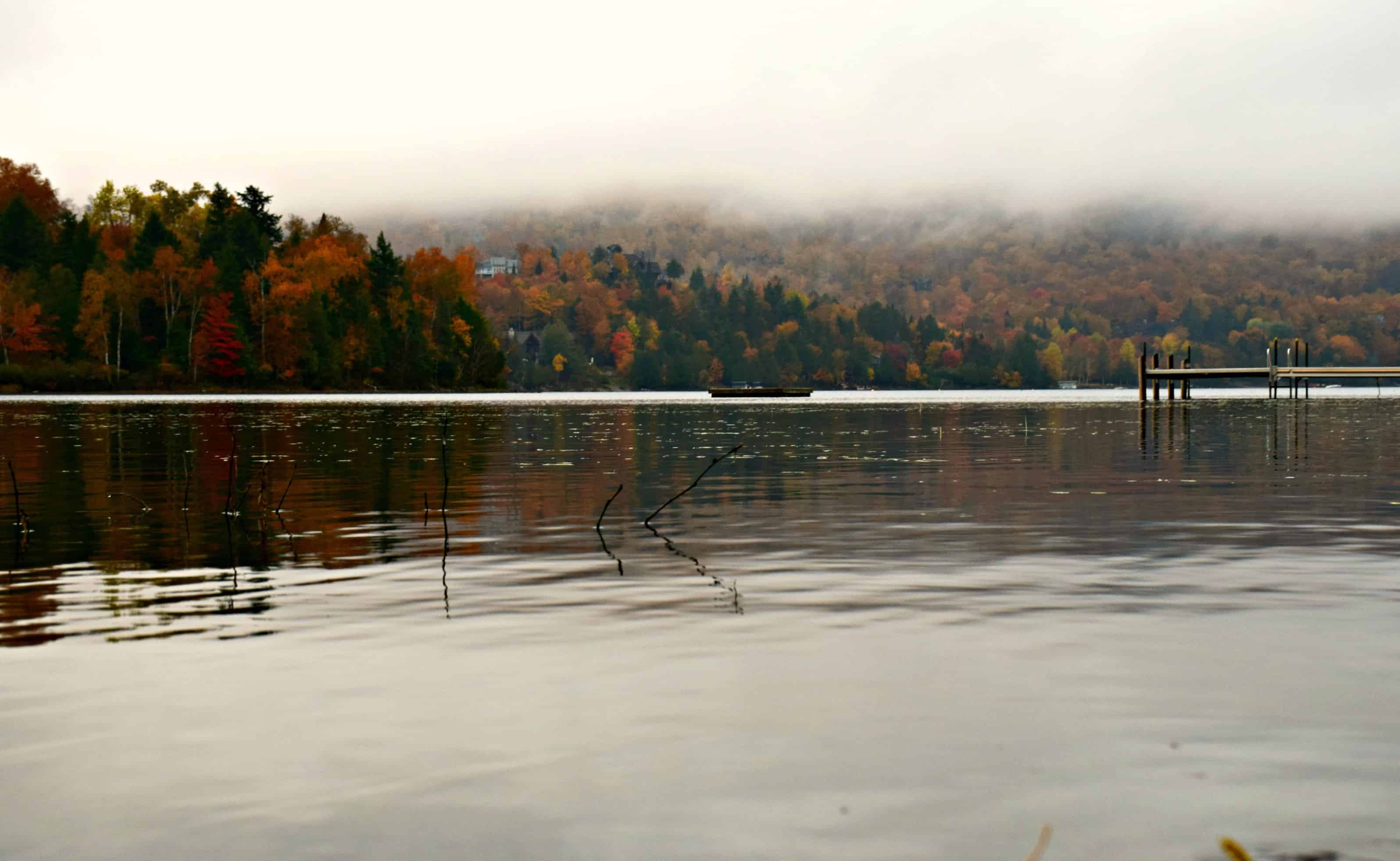 Wildlife Watching
I was thrilled on my recent visit to see these white-tailed deer munching away right outside my hotel cabin.  Wolves, black bears, foxes, raccoons, otters and moose are common in and around the National Park, which also provides appropriate safety information for sharing the environment with these animals.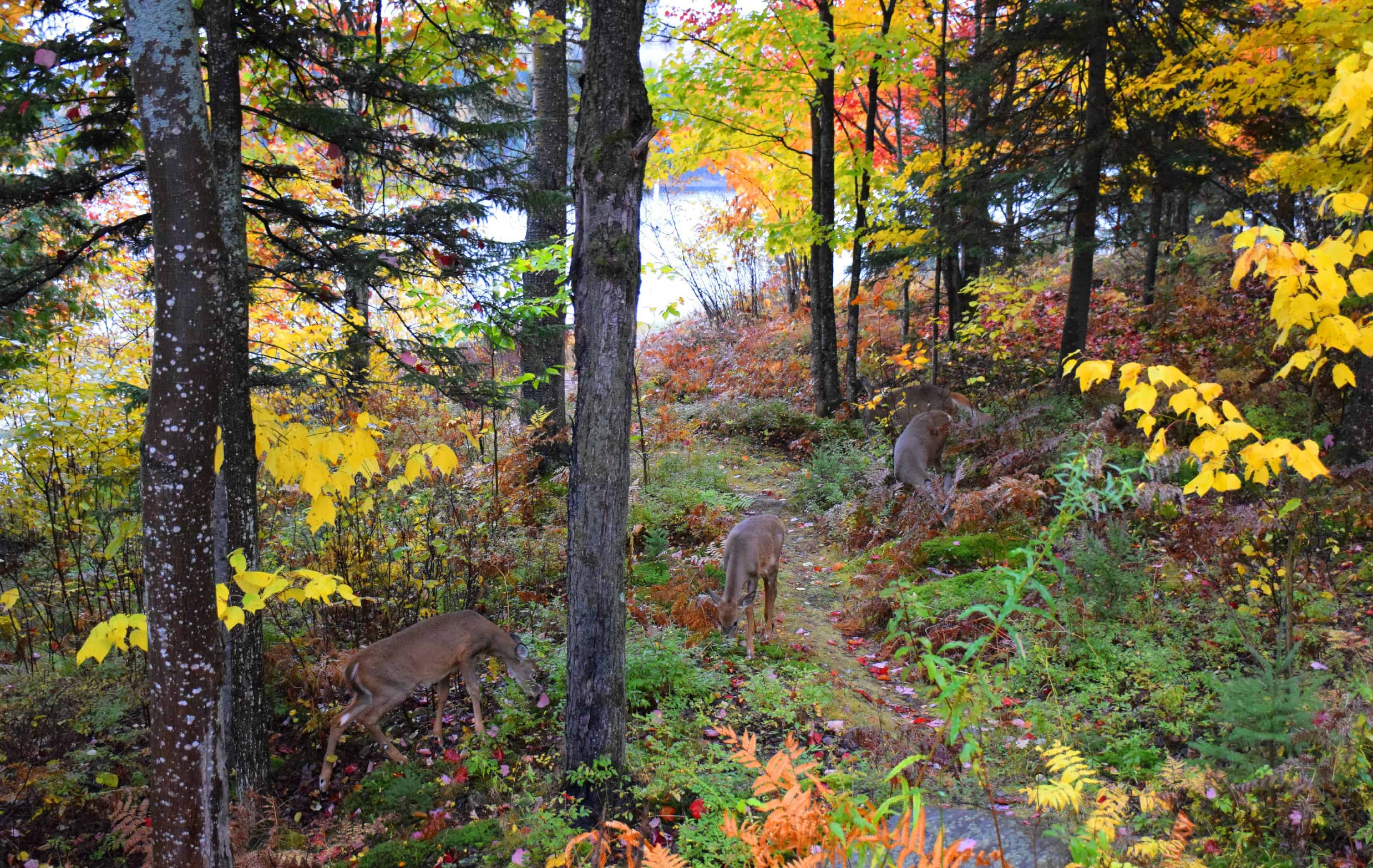 Just an hour-long drive from Mont Tremblant, you'll find Parc Omega, a drive-through safari park which is home to animals native to alpine climates.  It's a huge park, and provides excellent wildlife viewing in a controlled, yet natural environment.  Kids love it and so do I.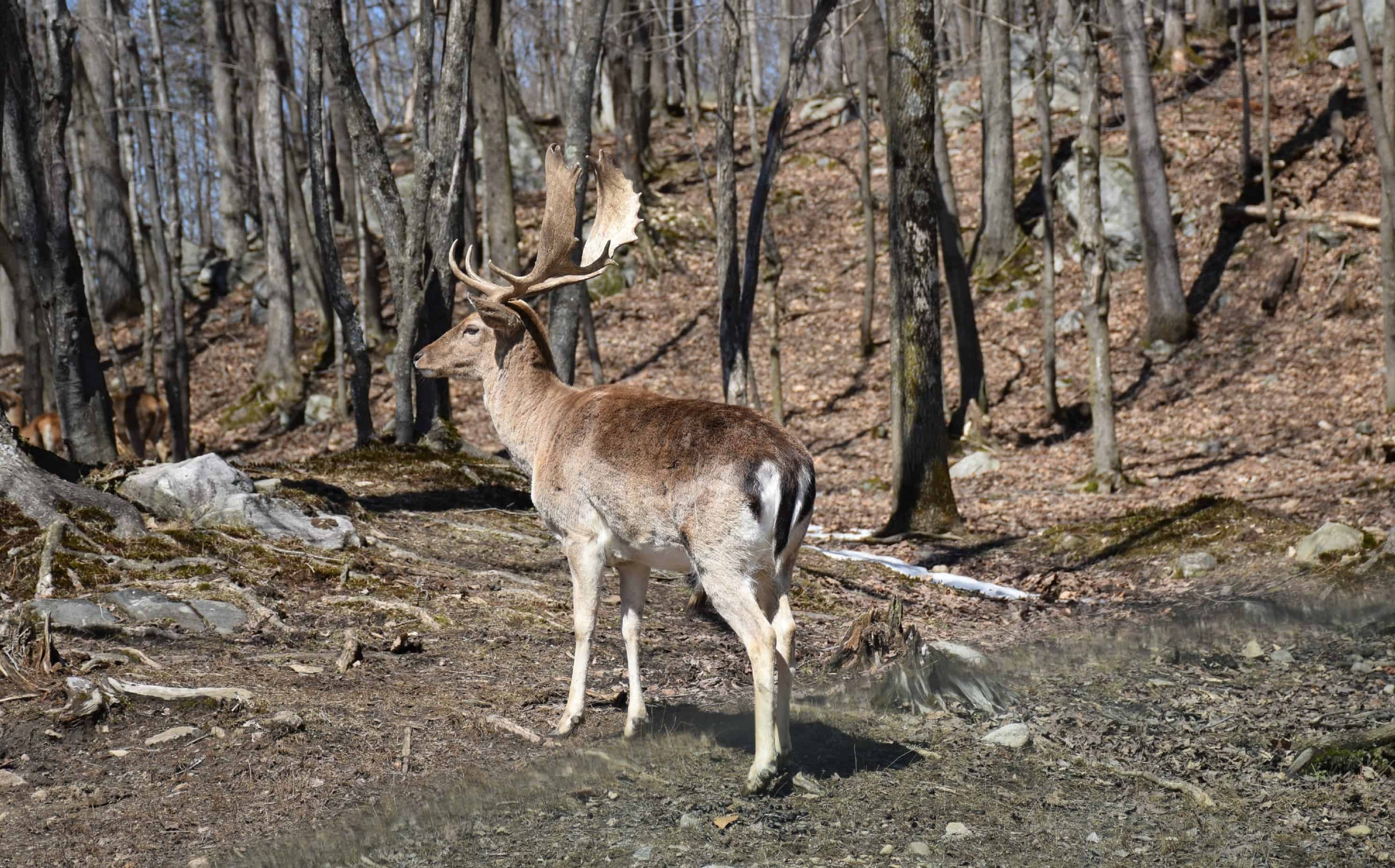 Relax at a Spa
After all of those fresh air activities, there's nothing like a little pampering and relaxation at a spa.  There is plenty of choice in the Mont Tremblant resort area.  In particular, I recently enjoyed a one of the best massages I've ever had, and this fabulous view from the whirlpool, at Sans Sabots Spa at Hotel Quintessence.
Another fun option is the Scandinave Spa where you are encouraged to soak in hot pools, and then jump into the cold ones for maximum invigoration.
Disconnect and Do Nothing
My favourite activity.  Isn't it the goal of a vacation to have some down time?  Take it easy.  Soak up the mountain air.  Appreciate the views of nature.  We can all be good at it, if we try.